Ksenia got a new subject in the bargain with supervisors from two institutions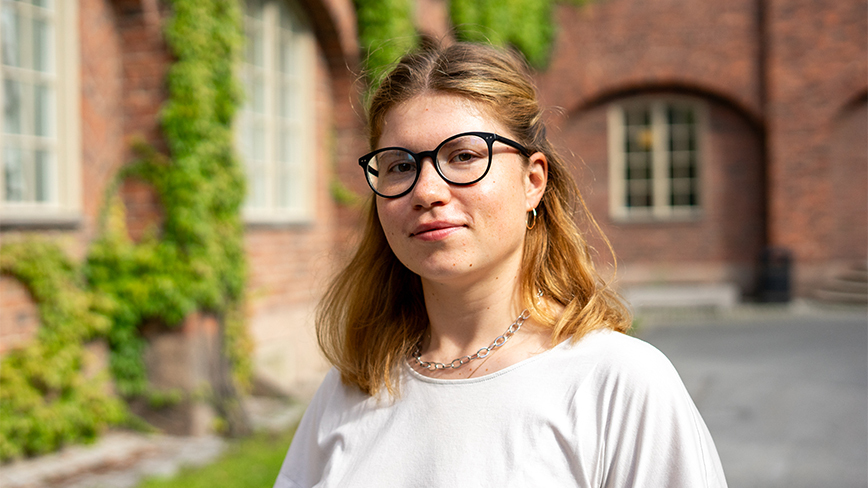 Published Sep 06, 2023
How does it work to have supervisors from two different research fields? Seven Ph.D. students have tested, one of them is Ksenia Loskutova.
"I have a physics background, chemistry is a whole new world! I certainly could not have done the work as well as it did without the substantial support of my co-supervisor," says Ksenia Loskutova.
When the CBH school was established in 2018, the school's management wanted to encourage closer collaboration between the departments in the new organization. Seven special Ph.D. student positions were created, where supervision from two departments became a basic structure of the research projects.
Ksenia Loskutova became one of the selected Ph.D. students:
"I knew I wanted to work with medical technology and research, that component was the most important thing for me. The fact that I then had the opportunity to work in such a multidisciplinary way was a big bonus!"
The research project in which Ksenia became involved is about developing image reproduction in ultrasound using a new contrast agent. Instead of using gas-filled microbubbles to amplify the ultrasound as today, the idea is to use liquid-filled cellulose capsules.
"I had support from my main supervisor who knows microbubbles, medical technology and ultrasound, but also from my secondary supervisor who was able to help with chemistry and cellulose fibres," says Ksenia.
The vision is that the capsules should also be able to transport cytostatics – without damaging healthy tissue. But the research is still in its infancy:
"One thing that many capsules have had problems with is that they were either so stable that strong ultrasound was required, or that they were marginally better than the gas-filled bubbles. If you want to be able to encapsulate medicines, then you want them to last," says Ksenia.
Increased competence
Behind the research project are Dmitry Grishenkov, Associate Professor at the Department of Medical Technology and Health Systems and Anna Svagan, Associate Professor at the Department of Fiber and Polymer Technology.
Ksenia is pleased that she had the opportunity to learn a new subject and thus was able to expand her skills.
"I got to know many Ph.D. students in Anna's department and the longer I spent there, the more I learned. It became easier to follow the conversations and reasoning when they explained how to do something. I appreciated that!"
Different work cultures
Another positive aspect is the opportunity to get to know different working methods and work cultures, says Ksenia.
"If you only work in one department, it is so easy to think that this is how it works. It's good to see that it can work in more than one way. I felt that I could contribute to both departments, mainly the main department in Flemingsberg."
The research project took place during the pandemic. It became easier to meet digitally, but Ksenia remembers that it could be difficult to explain problems that arose in the lab.
"I tried to explain in words what I did and did not do, but it is so easy that there are misunderstandings. Both of my supervisors were important to me, but they had completely different skills and it could be difficult to explain and understand why something wouldn't work with words alone."
Understanding the goal
Ksenia's most important lesson from work is the need for clear communication:
"It is important that you make sure that everyone involved in a project has a sufficiently good overall understanding of what it is you are doing and want to achieve so that you can contribute with the knowledge you possess, so that the entire project develops and moves forward!"
Last spring, Ksenia finished her doctoral thesis. Now she continues to work in business as a consultant at Zozium.
"I wanted to see something new after ten years at KTH, but I can definitely imagine coming back!"
Text: Leena Höijer
Photo: Jon Lindhe