How CBH's foreign students tackle the crisis
Published May 05, 2020
Some have gone back home while others are in Sweden still – but they are all managing their studies online. The foreign students at CBH are doing quite well although there are fewer labs and many other challenges.
Siyuan Tao from China is a 1st year Master's student in Macromolecular Materials. He thinks that his studies are going well under the circumstances.
"So far, I basically just follow the online courses and do the exercises. I have more time now; no shopping, no traveling, no social contact. This is a bad thing, indeed, but I find it's a good opportunity to read more books, something that I always wanted but didn't have enough time. What's more, the courses are hard enough to keep me busy every day."
How does the remote aspect influence your studies?
"At first, I couldn't get used to it, but later I found out that is not too bad. The video recordings are helpful. Teachers are replying to questions very fast and in a very detailed way, which helps me a lot too."
Osheen Sharma from India, a2nd year Master's student in Medical Engineering, actually finds it less stressful to work from home as her thesis involves a lot of coding tasks.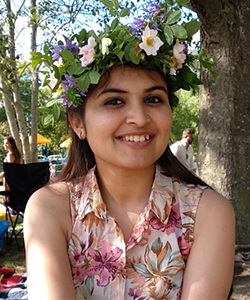 "I think it is very convenient as I don't have to prepare myself for any traveling, but can rather join the online session no matter what time it is delivered. Basically I am saving a lot of time by not traveling just for one lecture to the campus."
She does miss socializing with people around her lab though, and wishes for everything to return to normal as soon as possible.
Fewer hours in the lab
Javier Olmos Becerra, a 2nd year Master's student in Medical Biotechnology from Spain, is happy with the support offered from KTH.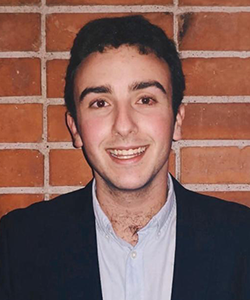 "I am really satisfied with the support of the teachers and KTH, as the examiners of the Degree Project have been checking the specific situation of every student to see if we are OK or if have any problem with the master thesis," says Javier.
For him, the big issue is the trouble getting lab time.
"As my hours in the lab have been reduced, some of the experiments needed to be modified or excluded from the project. To solve this I had to reschedule my experiments and set my priorities, repeating the ones that I had already done to have enough replicates of the data and not starting new experiments. Thanks to my Research Group at KTH it was really easy to reorganise the project and adapt to this special situation."
Hard to stay focused
Irene Pavani is an exchange student who has returned to Italy where she is continuing her studies in chemistry online.
"It is harder to be focused in this period. Spending all my day in front of the laptop is very tiring and I have headaches quite often. I would say that this is a challenging situation and I am scared that my grades will be influenced in a negative way," says Irene, who is happy with the support from the teachers and KTH.
"I think it is very good that my professors publish the recordings so I can watch them more times if I need to and with more attention."
Keep the regular routine
Hiroki Tomita, a Master's student in Chemistry from Japan, tries to keep his everyday life as normal as possible to manage his studies.
"In this quarantine time, I'm trying not to break from my regular routine such as waking up at the same time every day and working out, and so on. However, I'm studying chemistry and now every lecture is held online, so I cannot do lab experiments at all. Overall, I'm satisfied with the support from KTH, but the biggest issue that I concern now is whether I can start the thesis project from this autumn since this project requires the lab experiment."
Ria Afifah Almas from Indonesia is a 2nd year Master's student in Macromolecular Materials and she has had some problems with her Master's dissertation.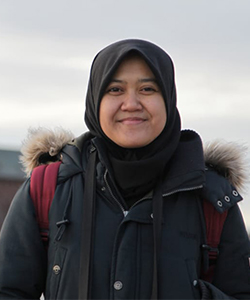 "This pandemic situation has an impact related to the thesis project. The project is performed at RISE in collaboration with one company. The master's students and interns are not allowed to come to RISE for a while, and mostly the employees should work from home. Therefore, I couldn't analyse the samples at RISE and the project was hampered for a moment. It may also affect the schedule for graduation as well as my visa, since most international students' visas will expire at the end of June. Other than that, I also feel low in terms of motivation since we are mostly stuck at home during this uncertain situation. However, I know that everyone work hard and try their best to make the situation under control."
Are you satisfied with the support from your teachers and KTH?
"Yes, so far KTH still give us information about the current situation. But it would be better if they also sent us instructions about new regulations regularly and give us contact for support, so we can ask if we have further question and need help. I also hope that KTH will help us students providing letters to Swedish Migration Agency if we need to extend our study due to this pandemic condition."
Text: Jon Lindhe and Kenneth Carlsson