Congratulation to Philipp Haller
– appointed as a new programme director
Published Oct 02, 2019
Philipp Haller is appointed as a new programme director for TCSCM, he starts 1 January 2020. Read his thoughts before his new assignment.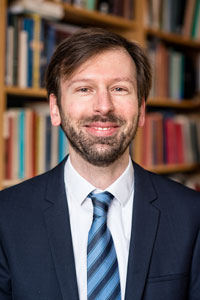 How does it feel to start as a PA for the TCSCM programme?

It feels like taking on a new challenge with exciting opportunities to shape the education and the educational environment of a diverse cohort of students with many different backgrounds and nationalities. The largest Master's programme at KTH, our CS Master's programme is also known for its excellent quality, not least thanks to the outstanding work of outgoing PA Örjan Ekeberg. Thus, I feel a great sense of responsibility to place quality at the center of all activities to innovate and develop the programme further.

What are you most looking forward to with the assignment?

Generally speaking, I am most looking forward to using my subject-matter expertise to drive a larger educational programme, and to develop it further. I am particularly interested in continuing efforts regarding internationalization (exchange studies etc.) and bringing all the exciting research being done throughout our School closer to students in the CS Master's programme.

How do you view the future development of the programme in 5 or 10 years?

On that time scale, I hope that the gender representation of students in the CS Master's programme will be more equal than today. As Rektor Sigbritt Karlsson has reminded us recently, gender balance is about increasing performance and quality--key objectives for our work. To get there, I believe recruitment is one essential "ingredient" among others. Furthermore, I would like to increase the number of exchange students, both outbound and inbound. I believe experiencing different cultures, languages, and societies fosters a deeper understanding and appreciation of diversity, and prepares our graduates for increasingly international and diverse workplaces. Last but not least, the programme will continue to reflect major shifts we are seeing in science, industry, and society. Increasing and accelerating digitalization puts computer science at the center of future technical developments. Therefore, it is critical that our education provides the necessary foundation to enable our graduates to become leaders today and in the future. KTH has an excellent track record--let us continue this success story!

What is the first thing you will do on 1 January when you begin your assignment?

On New Year's Day I am probably going to watch ski jumping (Four Hills Tournament), which is a German tradition. ;-) More seriously, my initial focus will be on the methodology and the process for evaluating and ranking applications by international students to the CS Master's programme. Given the large number of applications, I already know that this is going to be my first challenge!