"A perfect opportunity for students and companies"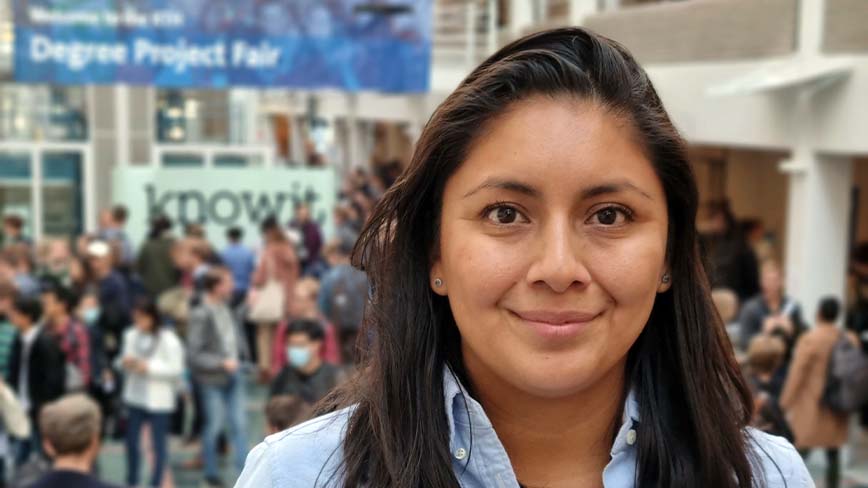 Published Oct 20, 2021
Kista showed off its best side and offered sunshine when companies, researchers and students gathered for the Degree project fair in Electrum.
Alexandra Leyton, project manager for the Degree project fair 2021, can you tell us a little about this year's fair?
"For a long time, it was uncertain if we could have a fair in place in Kista, last year it was completely digital, but then a month before the event we decided let's do it! ABB and Ericsson, who are some of our strategic partners, participated digitally and we had about fifty companies and researchers on site to meet students and offer over 300 dissertations, so it has been solved in the best way! The interest from our students has been great and we have smashed visitor records, which is fun but above all important because offering degree projects is one of our most important goals so that our students can make valuable contacts in the labor market."
Dejan Bucar, Software Engineering Manager at PrimeKey, you attended the Degree project fair in Kista, why is it important for you to participate?
"PrimeKey participated in the Degree project fair in Kista since IT security in general and tools for handling digital certificates are areas that is becoming increasingly important and growing. But even though PrimeKey is in an expansion phase, we are still relatively unknown outside the PKI world, attending trade fairs is a way for us to market ourselves as a company but above all to build relationships and hopefully find future stars who want to work with us, to start by doing a degree project is a great way to find them."
Why are you looking for degree projects from KTH?
"We have good experiences of KTH quite simply, several of us studied at KTH including me (E96: a). And our office is in Solna and we have no other offices in Sweden, so I will not lie; proximity matters. But mainly it is because what we are doing is among the most complicated and safety-critical areas you can work with and we need good people and we know that the quality of education and students at KTH is high."
Jens Zander, Professor and researcher at The Division of Communication Systems, you were one of the researchers who participated in the fair, what are the advantages of looking for students with degree projects here as a researcher?
"It is a good opportunity for us who do not meet the students in the basic courses to be able to show our research and what it can mean to do a degree project in our research group."
One of the students who participated in the fair was Amanda Ahnström Koinberg, what did you hope to get out of the visit?
"I am in my third year in computer technology and wanted to meet the companies to know what they work with and what they can offer us students. I plan to do my bachelor thesis and graduate towards the end of spring, so I hoped to be able to ask the companies if they offer the opportunity for a bachelor thesis or employment. I also wanted to know what employees in the companies worked with and what to expect when I apply for a job.
Would you recommend next year's thesis workers to go to the Degree project fair 2022?
"The fair is a perfect opportunity for students and companies to exchange their great interest in technology. I recommend ALL students to go to the fairs even if they are not going to do a degree project. Not only is it fun to mingle, but it is enlightening to know what awaits after KTH. Many of the entrepreneurs are experienced technologists and you can talk to them about many things in addition to job opportunities or degree projects. Because apart from contact, I gained a better understanding of the industry and feel more eager to finishing my studies."