The degree project fair 2019: important meetings between students, researchers and industry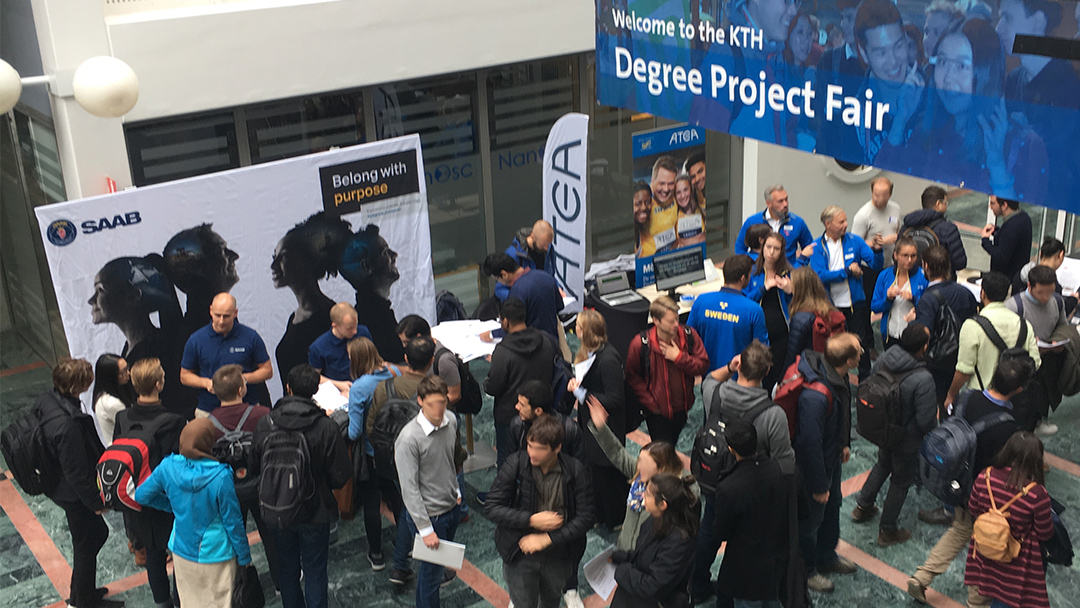 Published Oct 09, 2019
Almost 50 companies, 15 research groups and 300 of KTH's students visited the yearly degree project fair at KTH's campus in Kista. The event was full of positive energy when the students met companies like Spotify, King and Huawei in order to find suitable degree projects.
The fair was held in Electrum, Kista and was aimed at students who will be doing their thesis at the bachelor's and master's level this academic year in the ICT field. They got the chance to meet representatives from the business community and researchers from the School of Electrical Engineering and Computer Science at KTH (EECS).
– The number of exhibitors is increasing every year and I am proud of the breadth, we have a good mix between large and small companies, organizations and authorities. Thanks to the school merger, I also notice that interest has increased among students from both our campuses, which is fun, says Alexandra Leyton, project manager for the fair.
Among the participating companies were The Swedish Defence Research Agency (FOI), IBM, Saab, Spotify, King and Huawei, as well as researchers from EECS. One of the participating researchers was Markus Hidell, Deputy Director of First and Second Cycle Education at EECS working at the Division of Communication Systems.
– It is fantastic to see the support for the project degree fair in Kista. We have almost 50 companies and 15 research groups that present a wide range of proposals for degree projects for a very large number of students. It is a golden opportunity for our students to find interesting and challenging degree projects and it is fun to be involved as they botanize among the various exhibitors at the fair. The degree project fair is an important forum for meetings between students and companies, between students and research groups, and also between research groups and companies, says Markus.
Are you interested in joining next year? Please contact communication-support@eecs.kth.se