New international students have arrived to EECS
Published Aug 28, 2019
As vacation time is coming to an end, the most exiting period of the year starts at KTH. The arriving students have been welcomed with activities and music all over campus in celebration of the academic journey they are about to begin.
A sunny and warm day in August, EECS' new international master students arrived. The new students gathered in lecture hall Alfvénsalen where they were given advices and information about their studies. There was also an opportunity to get answers to questions they might have had regarding their studies.
Approximately 500 new international master students have been admitted to EECS and they come from countries all over the world.
Two of the new master students are Chia Hua Li and Zhanzhan Liu. They are here to study Electrical power engineering and Energy for smart cities. Chia Hua Li says that she chose Sweden and KTH because of her programme studies which provided her with the possibility to get a scholarship. For Zhanzhan Liu it was her university's cooperation with KTH combined with the subject of her bachelor degree that made the decided to come to KTH for her master studies.
What Chia Hua Li and Zhanzhan Liu is wishing for most is to get a master's degrees. But when asked what they look forwards to with their studies both expressed an interest to stay and work in Sweden a few years when finishing their studies.
Markus Hidell, one of the EECS' Deputy Directors of First and Second Cycle Education, held a speech in Alfvénsalen where he welcomed all new student to the school.
"It is with great pleasure that I welcome you all to KTH and the School of EECS!
You have been selected in tough competition and now you are finally entering your Master's programme at KTH. I am impressed with your achievement and am genuinely happy that you have decided to study with us at KTH and the School of EECS. You are now in a new academic environment and during your master studies you will be integrated with students who have been at KTH for few years. I encourage you to blend with these students and let them help you to figure out the rules of the game here in Sweden and at KTH. A word along the road from me is that I strongly recommend you to participate and be engaged in learning activities as well as in social activities during your time here. I sincerely hope that your journey through your Master's programme will be a lot of fun and full of great learning experiences!"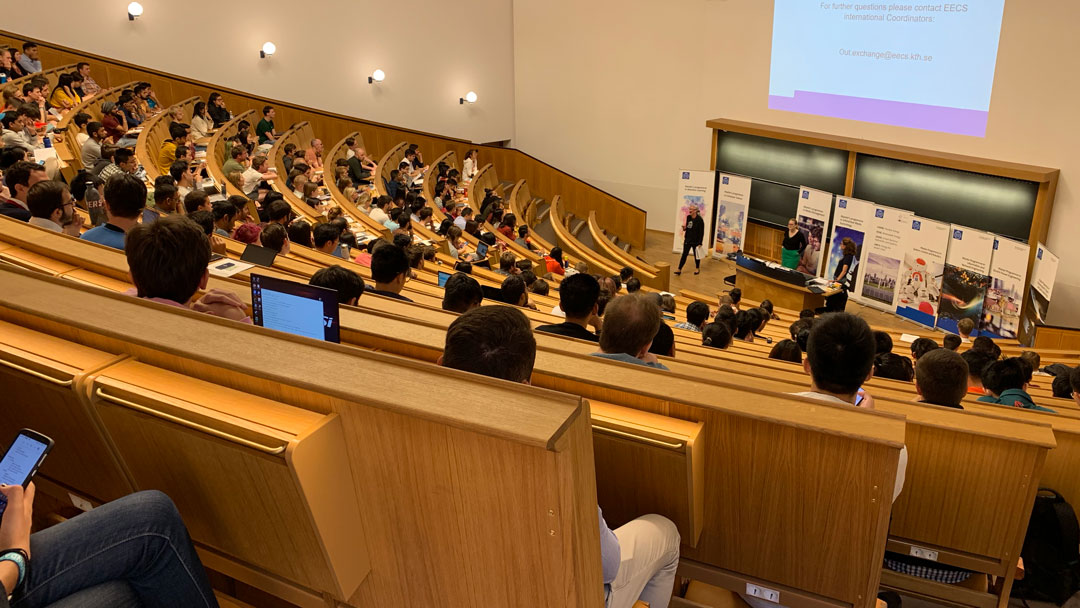 It is with great pleasure that we welcome all new students to KTH and the School of Electrical Engineering and Computer Science!"