The President's groups annual school visit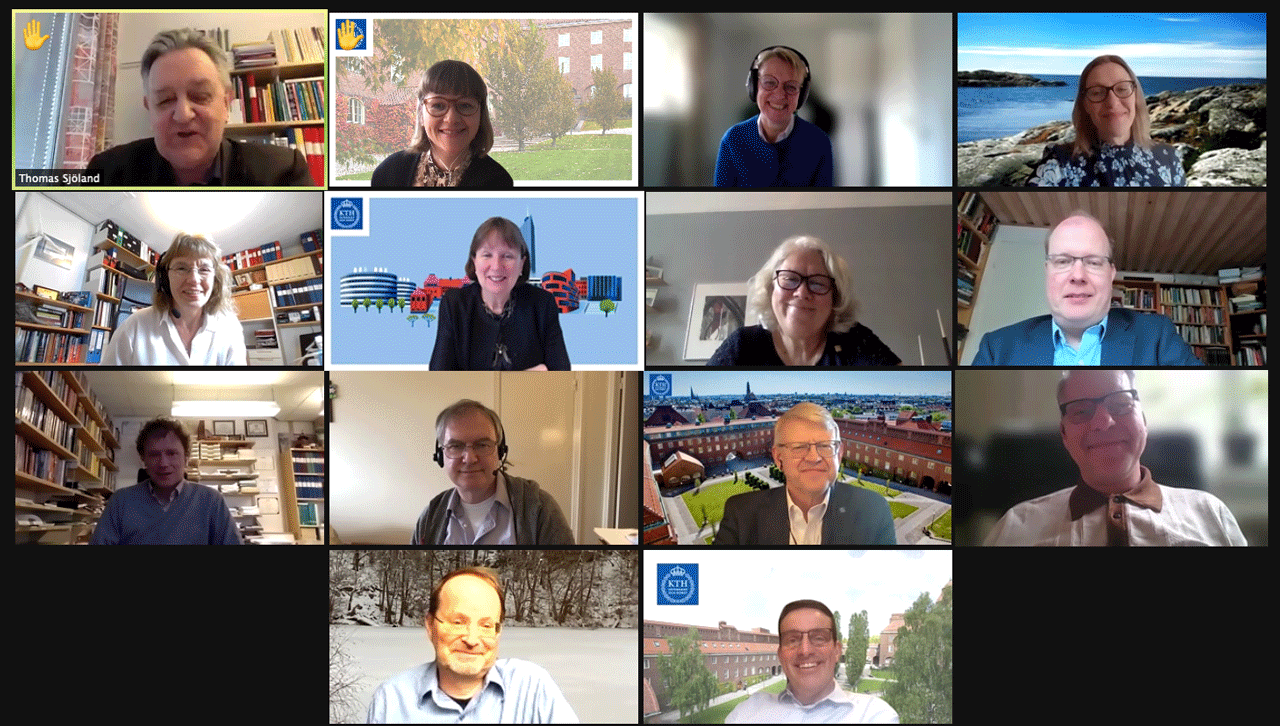 Published Apr 01, 2021
Every year, KTH's President Sigbritt Karlsson visits all schools together with Deputy President Mikael Östling and University Director Kerstin Jacobsson. The purpose is to give the school management a better picture of what is happening at KTH and to give the schools an opportunity to talk about their operations. This year's meeting was digital and focused on positive news and development.
We asked our new Head of School, Sonja Berlijn to comment on the meeting that took place on 29 March.
Can you give us some background, why these annual meetings?
"This meeting gives the President's Group an update on what is happening at the school. For us in the school management it is also an opportunity to hear what expectations we have from, among others, the University Board , and if there is anything in particular we should focus on. It is simply a good opportunity for a joint dialogue."
Tell us, what did you discuss?
"KTH's President's Group expressed that our school is strong in both education and research, with subjects that are highly relevant in the societal change. They also emphasised that we are KTH's largest school with all its strengths and challenges it entails, and that it also takes a lot to maintain our place in the international rankings. You can always get better. It felt very positive to hear."
"I am convinced that we must constantly improve in order to be competitive in education and research", Sigbritt Karlsson, KTH President.
Did the President have any specific requests?
"Yes, she did. We will continue to work with all the goals set in KTH's overall strategic plan. Sigbritt also expects that as many as possible at EECS will continue to work with KTH's development so that KTH retains competitiveness. "
"Sigbritt also mentioned some challenges, how important it is to continue to recruit more women and that we are clear on KTH's requirements for bilingualism. You need to be able to speak both Swedish and English for a career at KTH. There are clear expectations from the government on this issue. "
What did the university director and deputy president say?
"The Deputy President Mikael Östling praised the school for all the faculty involved in KTH's collaborations with the strategic partners. I am in the same review group as him, which is about partnerships, and he talkt briefly about that work. Mikael also wished to take a closer look at how we can best utilize KTH's campus and our different locations, something we can continue to have a dialogue about."
"University Director Kerstin Jacobsson addressed how incredibly much KTH has grown as an organisation and what it means for challenges regarding smooth work processes. She mentioned the ongoing work with HR and digitisation and the local supply process. I appreciated her words on how she looks forward to the collaboration between the faculty and administration since we work together and contribute to the same thing."
What did you bring up about EECS?
"Only positive things, of course! I chose to address how fantastic everyone has worked during the pandemic, not least with the education changes. I also talked about the ongoing shift in school management that will affect everyone and I raised that Professor Viggo Kann received this year's JML award ."
"Some more things I addressed were my focus areas this school year; strategy, strategic partnership, digitisation, and that we are making an annual plan so that we can work proactively and efficiently. I also told them that I am reviewing all meeting structure."
Surely, the Heads of Department, the Head of Administration and the Doctoral Student Council also set some good examples? Will we get to see them?
"Yes, all the ones you mention had each prepared a slide with good examples that were presented during the meeting. Since it was excellent to hear about, I have decided to talk more about them at the All Employee Meeting (AEM) on 15 April. Therefore I want to encourage all curious readers to zoom in that date to hear more about how I as a new Head of School will work and you will hear more about KTH's priority areas."
Any last comments?
"Thank you all who contributed to this meeting! I look forward to next year when we hopefully can meet on campus."
Save the date – All Employee Meeting 15 April
All Employee Meeting 15 April (The Zoom link will be posted on the intranet)
Submit a question here to Sonja Berlijn before the meeting