Digitalize in Stockholm – the first steps towards KTH Digital Futures
Published Nov 29, 2019
More than 300 visitors, 15 speakers, five panels and 25 demo presentations.
The two-day event provided a mix of international speakers from prominent institutes, universities, organizations and companies from public and private sector focusing on manufacturing industry, the future of transportation, smart cities and the next generation of governmental services.
Karl Henrik Johansson, KTH Royal Institute of Technology and Magnus Frodigh, Ericsson Research, opened the conference by sharing how Digitalize in Stockholm 2019 is a starting point for a broad dialogue between various partners on the driving forces, the effects and the technologies of digitalization - for society, people and industries.
Thereafter ,Karl Henrik Johansson announced the new research initiative KTH Digital Futures, that in the same spirit, will gather cross disciplinary projects for the development of future technologies for digitalization. Launching officially in 2020, KTH Digital Futures, will receive state funding by an annual grant of 78 MSEK as a national strategic research area (SRA).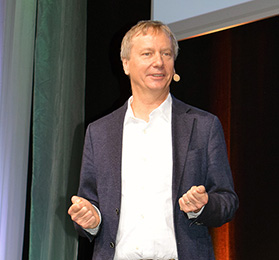 In 2014, Gerhard Fettweis, TU Dresden, coined the expression "tactile internet", which he related to in his keynote presentation on 5G and beyond. In brief, the tactile internet is realized when data transmissions have such ultralow latency that we can manage physical and virtual objects in real time over internet. This seamless infrastructure enables complex processes such as critical remote surgery, various haptic applications, synchronizing autonomous vehicles to avoid interference or conduct high-risk tasks in industry in e.g. nuclear plants or mines.
Siim Sikkut, Estonia's CIO and one of the world's most influential persons in e-governance, shared how Estonia developed their citizen services and evolved into the leading digital nation of today. Many other nations are now interested in their e-residency concept. The state must get better at understanding human needs and be proactive while at the same time offer the opportunity for individuals to opt out and not share their data.
The panel covering Autonomous systems including intelligent transport discussed how enormous resources invested in the development of technology, however contradictory, can become the obstacle for making the technology come to use: "We should not have requirements that are so high that we are never able to implement the technology", said Sara Mazur, WASP. Autonomous vehicles is such an example. All the time, better, safer and more expensive sensors are developed – but who will be able to afford them? How much can they cost? How safe must they be? Some solutions are not financially viable.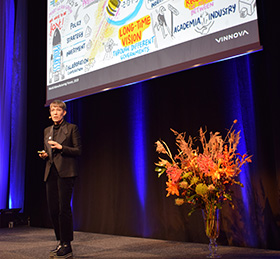 Darja Isaksson, GD Vinnova concluded the first conference day by underlining a recurrent message: To move forward we need to join forces over disciplines and sectors. The future digitalization is not possible without the collaboration between research, industry, politics, the legal system and the civic society.
The ambition is to organize this event annually, where partners within KTH Digital Futures and stakeholders come together for deep dives in the latest research and innovation, the latest insights and trends in the technologies for digitalization. The partners of Digitalize in Stockholm and engaged in KTH Digital Futures are in addition to KTH: Ericsson, Scania, ABB, Skanska, City of Stockholm, Region Stockholm and RISE.