Impact - How does your research make the world a better place?
Published Oct 06, 2021
Understanding the impact cycle is increasingly important for writing successful proposals for research funding. Anna Raask, research advisor and specialist on EU and Impact at Research Support Office (RSO) explains why and what kind of support RSO provides to help KTH researchers succeed.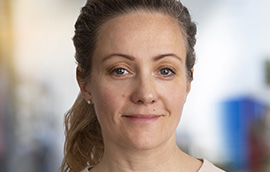 In short, calls for proposals build on policies for research and innovation and the funding agencies providing the grants need to show that society is getting value for the money. The impact of funded research projects then provide input to new policies, .that are the basis of new calls and so on.
Workshops for writing better (impact) proposals and PIP
Anna Raask emphazise the importance to start with the impact section in EU proposals, as this is often hard to write but the reward is that you will have the foundation for the whole proposal.
- We offer workshops on How to write successful (EU) proposals focusing on impact, says Anna Raask. One of the first things I show is this image of contrasting perspectives between academic writing and proposal writing and stress the three key concepts – show the need, the purpose and how the problem will be solved.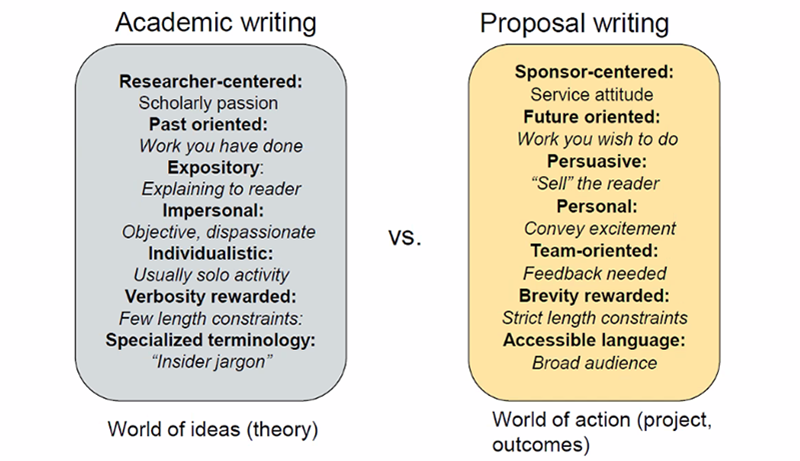 - We have also a concept called Proactive Impact plans (PIP) that we propose to researchers who may not yet think about submitting a proposal but will benefit from having formulated what they want to address with their research and who their problem owners are.
- It is equally important to think about if there are any obstacles for reaching the proposed impact and if there may be any negative impact due to the research impact. This can be related to dual use of research results or similar. Our research advisors give support for these non-scientific issues that are increasingly important such as export control, IP, ethics, data management and open access, equality and inclusion.
Canvas module on Communication in EU projects and an online seminar series
The new framework programme Horizon Europe 2021-2027 has some new features that are good to know about and understand how to handle. In the latest canvas course for KTH researchers, produced by RSO, the topic is Communication and one module is all about Communication, Dissemination and Exploitation (CD&E) in EU projects.
- I hope that KTH researchers who want to learn how to plan or run an EU project with regards to CD&E will take this online learning opportunity. It guides you through the "pathways to impact" and introduces the new impact canvas. You will learn from other KTH researchers who coordinate EU projects or are work package leaders for Communication and from one of our administrative project managers for EU projects at RSO.
- In Horizon Europe proposals, you need to show how you will achieve the intended impact in detail. What are the channels, how will you reach your stakeholders, how can they exploit the outcome of your research extend your long-term impact for the wider society?
- In our new online seminar series, we provide various tools for finding your stakeholders, addressing academic as well as societal and economic impact. You need to have all three for a good proposal. Start with the urgency of your research and the cost (for society) of not solving the problem and embed this in your research proposal in order to "sell" your idea. If you can write a "One-page-proposal" that is impact-oriented you will catch the evaluators attention.
Remember to ask - Who cares and So what?
Contact RSO at a very early stage!
Learn more:
Sign up for workshop 25 November: Dissemination and Communication in EU projects
Read more about Communication in EU projects with links to EU guides and manuals

Send an email to araask@kth.se to get access to the canvas course on Communication with a special module about CD&E in EU projects