KTH is investing SEK 50 million in research infrastructures
Published Apr 01, 2022
Over the coming year, KTH will substantially increase the central financing for established research infrastructures, from SEK 20 to 50 million. This was determined by the President in a decision in March 2022. The investment spans eight environments, and the funds will be released once negotiations for the equipment are finalised.
The President's decision is based on the outcome of an internal call during the winter of 2021/2022, and the total sum amounts to SEK 50.8 m. The funds are to be used to strengthen existing infrastructures at KTH and have been granted for new equipment and technology.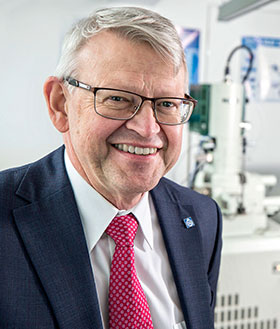 "This investment is part of our long-term development of excellent research environments at KTH. For several years, it has been clear that we need to take greater responsibility ourselves for building up our own research infrastructures. Being internationally competitive is also part of our strategy. We have been transparent in these aims in both our development plan and our business plan," says Deputy President Mikael Östling, who has the strategic responsibility for managing and developing infrastructures at KTH.
This is the fourth KTH internal call oriented to its own established research infrastructures. However, this time, it concerns SEK 50 million, a substantial increase from earlier calls of around SEK 20 million. The increase in funds directly results from the recommendations in the recent research assessment exercise, RAE2021, where external experts evaluated KTH's research infrastructures.
"We now have thirteen established KTH research infrastructures, and naturally, each has reached a different degree of maturity. All our infrastructures are of high class, and several are of absolute world-class. In the recently completed RAE2021, the international experts made special mention of our Electrum Laboratory and Alanova Nanolab infrastructures. We now aim to continue to develop these activities further and engage in more collaborations with the enterprise sector and society.
Outcome
The following research infrastructures are included in the announcement on financing:
Advanced Light Microscopy (ALM), SEK 5 m
Albanova NanoLab (ANL), SEK 8 m
Electrum, SEK 8 m
Hultgren Laboratory, SEK 4.5 m
LaserLabs, SEK 5.8 m
Odqvist Laboratory, SEK 8 m
Sustainable Power Lab (SPL), SEK 8 m
2MiLab, SEK 3.5 m
Information on, and films showing, KTH's established research infrastructures