Horizon Europe is rolling out!
Published Jun 10, 2021
Mid-June is the time when we expect more calls in the new EU framework programme Horizon Europe to roll out. What is new, what are the opportunities to look for, how do I succeed with my project proposal, why should I bother with applying for ERC or coordinating an EU Project, is there any support available?
Jenny Wanselius, Head of Unit Research Funding at RSO and project leader of the KTH strategy for participation in Horizon Europe has some answers to provide: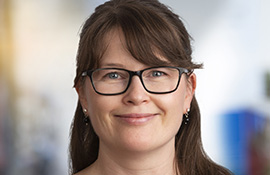 - For more than a year, we have been preparing for the launch of Horizon Europe in close dialogue with EU representatives, with KTH researchers and support personnel as well as KTH management and partners.
- We have evaluated the success factors from the previous programme Horizon 2020 and have a good understanding on how we can enhance our participation and extend our influence in the outcomes of Horizon Europe.
- During the spring 2021 RSO has organized a number of workshops about the ERC calls, the EIC pathfinder call and prepared for the MSCA calls. Coming up in June and July are the European Commssion´s Infodays about the various clusters in Horizon Europe.
- If you have not had the chance to read, listen or watch videos about the Horizon Europe programme we provide the latest news in the monthly EU funding Newsletter and on the KTH research support intranet pages. The R&I Days on 23-24 June will also give a broad overview and there is also an extensive guide provided by Science Business .
Will there be a KTH Horizon Europe week also this fall?
- In 2020, we organized a full week of seminars and workshops and it will not be as extensive this year. However, we have already planned a workshop about Open Science with a special focus on Public Engagement and Citizen Science where we will have a representative from DG CNECT joining us.
- Impact is also emphasized in Horizon Europe and we will focus on this issue in several ways, among them a training module in canvas about Pathways to Impact – Communication, Dissemination and Exploitation.
How successful is KTH in attracting EU Funding?
- In the fall, RSO will publish a report on the outcome of KTH:s participation in Horizon 2020. We have just published some compiled information about the ERC grants and the coordinated EU-projects during the last seven-year framework programme.
- We have extended our resources at KTH Research Support Office with a new team of administrative project managers for EU projects . We will present them in a separate article but you can read about the support in general here.
- At the time of this article KTH have not yet released its strategy document for successful participation in Horizon Europe but it will be available soon. Stay updated and in touch with us at RSO if you are planning to submit a project proposal and need some advice!
Link to EU funding support at KTH
Contact Jenny Wanselius on issues related to KTH representation in Brussels, as part of the Stockholm Trio collaboration.