Sign into KTH OneDrive on Mac
On this page, you find a quick reference guide on how to sign in to KTH OneDrive on a Mac computer.
Sign in to OneDrive on Mac
If you have OneDrive installed on your you look it up and start it from the Applications folder.
When OneDrive Setup starts, enter your KTH username@ug.kth.se and select "Create Account".
You will then be redirected to KTH's website, where you continue logging in with the same login details.
Choose OneDrive folder
You will now choose the place for the OneDrive folder. Our recommendation is at the root of your homefolder.
To make it easier to add work files to the OneDrive directory, you can drag the OneDrive folder to the Favorites bar in the Finder.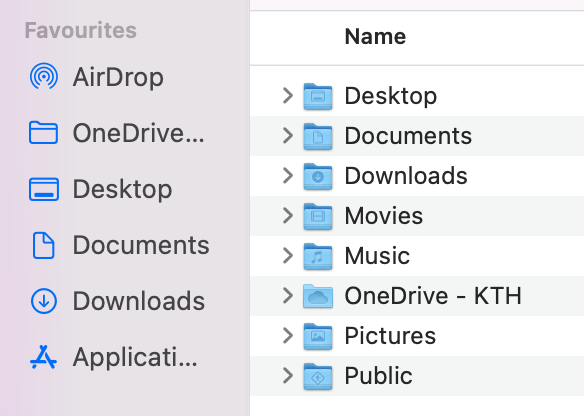 Everything is done. Synchronization begins, and your OneDrive files are displayed in the OneDrive - KTH folder in Finder.
Manage OneDrive files
Now you have a new cloud icon in the menu bar and your files are synchronized with your computer. Click the icon to see the status and any error messages for the synchronization.
To change which folders are synced on your computer, right-click the cloud icon in the notification area, and select "Settings> Account> Choose folders".