Download Zoom client
Download the Zoom client to your computer, tab or smartphone
Zoom is available for all employees and registered students.The Zoom client provides a full meeting experience with basic conference management, sharing and viewing content.
The client is available for Window, Mac, Linux, Android and iOS.
Before you start to use Zoom
Before you start to use Zoom check that you have version 5.0 or later. To check that:
Important Notice: Please begin updating all your clients to Zoom 5.0.5 or later now. By 30 May, all Zoom users must have version 5.0 or later in order for the program to function. Please control what version you have and install the latest edition. If you do not make this update, Zoom will not work.*
* This doesnt apply to people who uses KTH platfroms computer i.e. KTH-Windows, KTH-Mac and KTH-Ubuntu. These will get updated automatically.
Start Zoom
To check which version you have:

Go to your profile (top right corner)
Click on Help
Click on About

To update Zoom:

Go to your profile (Top right corner)
Click on "Check for Update"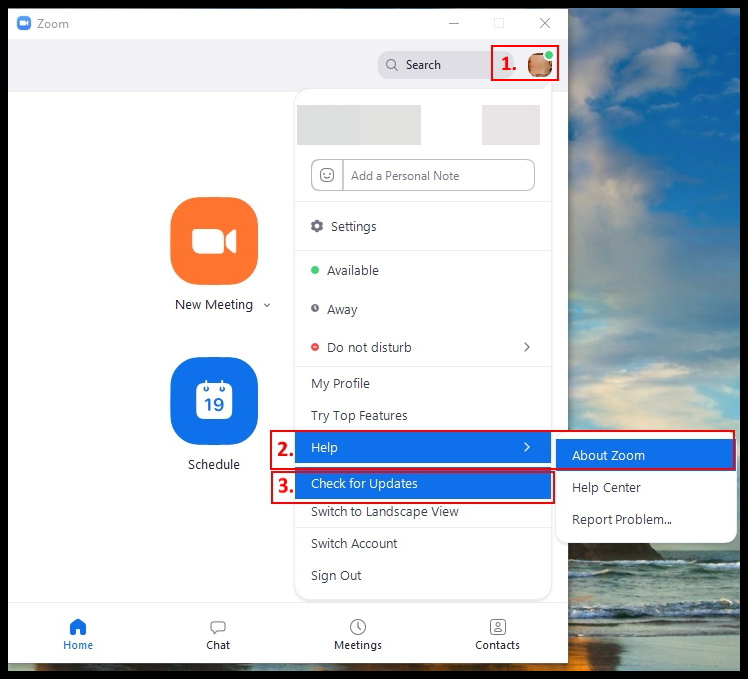 Download Zoom Client
KTH Windows (WIKS)
Open Software Center and Available Software
Select Zoom and install
KTH Mac
1. Open KTH Self Service
2. Select Zoom and install
Note that you need to give the Zoom client access to your microphone on the mac computer or you will have no sound.
Using the Zoom Client and Zoom Rooms with macOS
KTH Ubuntu
The Zoom client is automatically installed on all desktop systems.
Zoom Client to your private computer
If you have administrator rights on your computer then you may choose to use the ZOOM client.
Go to kth-se.zoom.us/download
Select "Download Zoom Client for Meetings" and download the client for your computer
Zoom app for your mobile devices
You are able to download the Zoom app from Google Play and App Store.
First time users, the guide "Log in to Zoom software" may be handy.