"It feels natural to step in"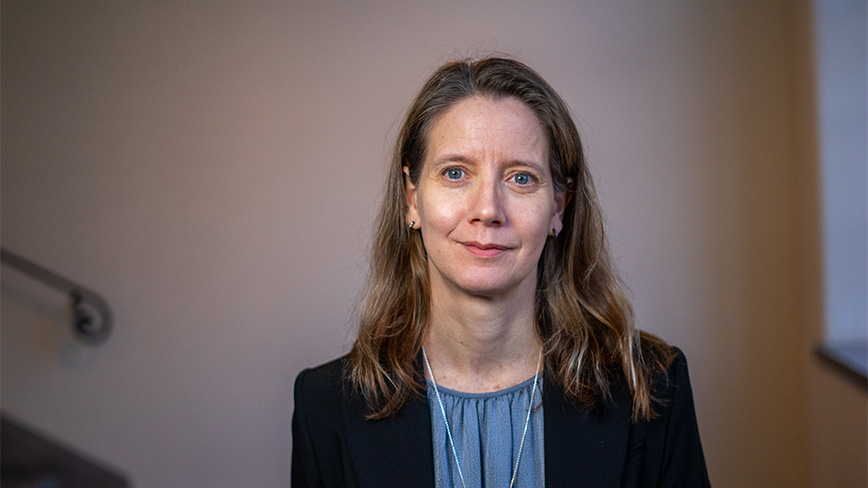 Published Jan 12, 2023
Since the turn of the year, Amelie Eriksson Karlström is new Acting Head of School for CBH, since former Head of School Mikael Lindström became Deputy President for KTH. Here, she gives her view of her new mission.
With a solid experience of different management positions such as Head of School, Deputy Head of School and Head of Faculty Renewal, Amelie Eriksson Karlström feels well equipped to take on the role as Acting Head of School at CBH.
The assignment extends over as long as six months, until the work with appointing an ordinary Head of School is completed.
"It feels good. I think Micke was very good as Head of School and now that this situation has arisen it feels natural to step in. It is fun that a lot is happening at KTH right now, and it feels good to participate and influence. I have been working with Micke for the last five years and I know the business well, so I think I have good qualifications for taking over," says Amelie Eriksson Karlström.
What will this mean for CBH's co-workers?
"I hope they will not notice any immediate big difference. I think a lot works well at CBH and would like to continue in the same direction as before. The changes come from outside. We have a new President, a reorganization of the Support Services and tough economic times. I hope we shall be able to work with this in a good way."
What is the difference from being Deputy Head of School?
"As Deputy Head of School, I was responsible for certain specific issues. Now, I get a broader overview of everything that is happening at the school. I might not be able to immerse myself in each individual question, but I can have a better overview and see the bi g picture. After having been Deputy Head of School, I think I know the school's business and staff well, something that makes it all considerably easier. I also have four years of experience as Head of the former BIO School."
What are you taking with you from that?
"That all parts and all staff categories are important and that it is important to anchor and take in comments from the different parts. As Deputy Head of School, my focus area was faculty development with research and teacher positions, now my responsibility is broader and covers the entire operation."
Where will you sit?
"I will sit some days at Teknikringen, where Micke sat before, near the different support functions, and some days at AlbaNova where I have my research group. I will continue with my research and expect to attend meetings on the other campuses, such as SciLifeLab, where I work as integration director. I am a link between SciLifeLab's management and the university's management and I will continue with that mission."
What do you want to achieve, is there anything that is extra urgent to address?
"The challenge is above all the economy and how we, with our limited resources, can continue to be competitive. The premises are a big and important question, where the problems look a bit different at our different campuses."
"We will continue working for good conditions for both research and education at the school. And try to work for a good solution for the support services. After the reorganization, I think we heads of school have a really important role in participating in the process so that everything will be good."
How do you see the future of CBH?
"I think one of our strengths is that we have a lot of good and committed staff. It is important to keep on working for good conditions so that they want to stay and continue working with us."
"People are what is important at all schools. There should be good economic conditions for researchers, good conditions when it comes to workload and tools for teachers, a good support and a good work climate. I think CBH is a good school with a good atmosphere, it is about further developing what is good."
Text: Sabina Fabrizi