Access to KTH Windows home folder and file shares from Windows
The KTH Windows platform (aka WIKS) has a central role in the KTH IT environment. Windows users might need to access the common file shares. Follow the guide to access them.
Windows
In order to access the KTH Windows servers according to the instructions below your computer has fulfill any of these:
Be connected by WiFi via eduroam provided by KTH
Be connected by network cable at KTH
Be connected to the KTH network via VPN connection if you are outside KTH
Connect to home folder and other file shares
The KTH Windows platform has, besides the home folder, a number of common file shares.
The search path of the home folder is constructed by the first letters in the username, e.g. \home\a\l\alice.
To connect to any fo the file shares, follow the instructions below.
| Volume address | Name in KTH Windows | Description |
| --- | --- | --- |
| \\files.ug.kth.se\root\home\x\y\username | H:\ | Home folder (see above) |
| \\files.ug.kth.se\root\gemensam | G:\ | Common files for workgroups |
| \\files.ug.kth.se\root\projekt | P:\ | Common files for projects |
In Windows you only need to write the volume name in the address bar in File Explorer. Change the path for direct access to the home directory as in the example for username "alice":
\\files.ug.kth.se\root\home\a\l\alice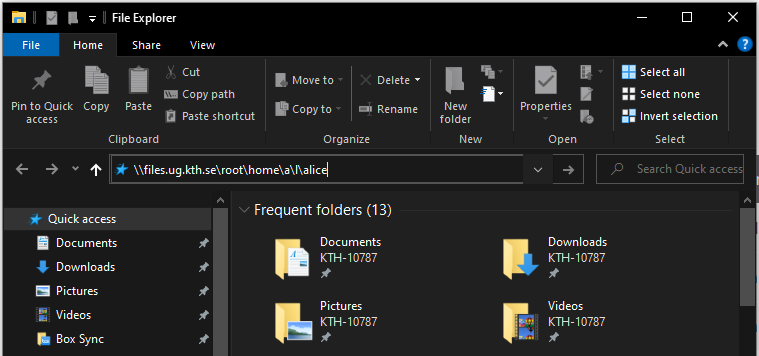 Use your KTH.SE-account username and password. Sometimes you have to type your username as UG\username