KTH Play (Kaltura)
KTH Play, also called Kaltura, is KTH's file sharing service for saving and sharing video as well as audio files. The files can then easily be imported into Canvas or other Web pages. KTH Play has recording capabilities, some editing capabilities and automatic captions available.
KTH Play - for all video and sound
The recommended media portal for video and audio at KTH is KTH Play, which is provided by the company Kaltura. KTH Play contains several tools for recording, editing and sharing video and audio. Sharing takes place in "Channels" in KTH Play, through Canvas, through Polopoly (KTH's Content Management System for web pages) or on external websites.
Even if you have or intend to record and edit your video in other programs, such as Camtasia, we recommend KTH Play when sharing video.
All employees at KTH have access to KTH Play. KTH Play is entirely in English
The fastest way to access KTH Play is to surf to play.kth.se and then login.
See the video KTH-Play introduction video
Features of KTH Play
KTH Play has several different features related to video and audio:
Recording can be done with Kaltura Capture or Kaltura Express.
Easier video editing with the editing tool.
Automatic subtitling on uploaded media via the Reach module.
Different sharing options:

Direct link to KTH Play.
Embedding code for web pages.
Canvas-linked embedding.
Publishing in channels in KTH Play.
Always keep your original files
KTH Play is not suitable for archiving files, so always keep your original files on your computer. KTH Play transcodes your files to a web-friendly format and the original files are deleted from the server when the transcoding is complete. If you want to use the files elsewhere, it is a good idea to keep the original files. KTH Play is intended for distribution, not archiving. If you want to save your videos for later use, use KTH OneDrive.
File types supported by KTH Play
KTH Play supports a wide range of file types, such as MP4, MOV, FLV, AVI, MP3 and WAV.
For a complete list, read which video formats that are supported in Kaltura (knowledge.kaltura.com) .
No file size restrictions
KTH Play has no file size restrictions. However, some browsers have a limit on the size of files they can handle. Keep in mind that large files take longer to upload, and extra computer capacity may also be required during the transfer.
Find KTH Play through the personal menu
The easiest way to KTH Play is via "Services" in the personal menu (the gray, top menu on KTH's website and Canvas). If "Video Platform (KTH Play)" is not available under "Services", click on the gear to select what you see under "Services". Find KTH Play in the list, click in the box and click on "Save" to save.
Read more about Personal menu .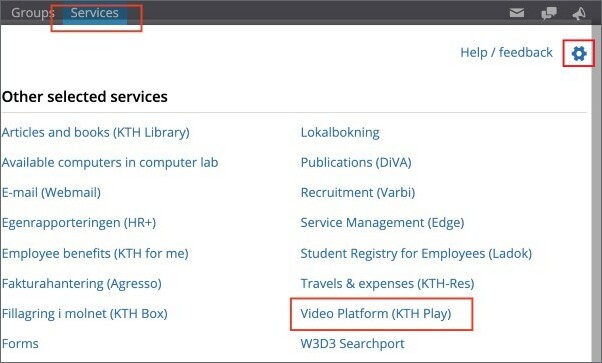 Record video
If you want to create a self-produced video, there are many different approaches at KTH.
Read more about Record video .