Anonymous examination could be introduced next year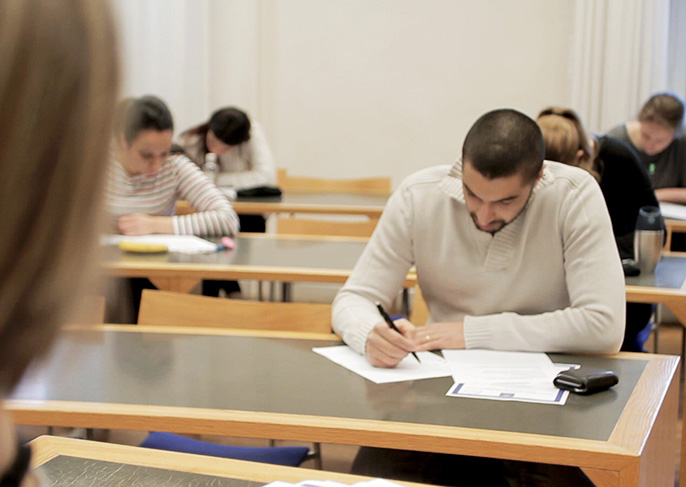 Published Jun 27, 2023
From spring term next year, KTH could be anonymising exam answers. This is the objective of a President's decision at the end of May.
"The legal security of students will always be the highest priority at KTH. We have seen that there's a risk of both positive and negative special treatment, and some students are concerned about this," says Filip Axelsson, Head of Educational Affairs at the Student Union. He continues:
"Anonymous summative assessment is now standard at almost all universities and the majority of higher education institutions in Sweden."
Leif Kari, Vice President for Education, says:
"Introducing anonymous assessment is a complex issue. It has to be well founded and consider different consequences and perspectives. Students' concerns that there could be potential bias in summative assessment is an important perspective and must be taken seriously. But it is at least equally important that assessment should be learning-oriented. Following extensive consideration, KTH has found that certain forms of assessment can be anonymised, provided that the development of assessment and examination for learning is moving in the right direction in line with The Future of Education."
According to the President's decision, written exams sat in halls are primarily suitable for anonymisation, but the Student Union sees other opportunities in the longer term
"We are increasingly moving towards continuous assessment and more reality-based assessment, so ongoing assignments are another area that should be addressed as soon as possible," says Axelsson.
"KTH is opting to introduce anonymisation of written, summative hall-based exams but in a learning context and with greater complexity. This process must be allowed to take time," says Kari, emphasising that one of the benefits of introducing the process will ideally be greater discussion about discrimination and bias in student assessment generally.
According to the decision, this could be introduced from spring term 2024. Any thoughts on that?
"It's important to have good enough routines in place to ensure there are no errors in administration that could cause problems for students, so an inquiry needs to be held during the autumn. At the same time though, KTH should not wait too long – it is, after all, something that almost all of Sweden's other universities can manage," says Axelsson.
Kari stresses the importance of ensuring every single aspect is approached carefully and thoroughly.
"Before anonymous assessment goes ahead, it's important that system support is implemented for every single phase, and that teachers have the necessary skills. The alternative is that everyone finds their own approach, which will make the teachers' situation untenable."
Text: Jill Klackenberg