Campus that promotes community
Published Sep 22, 2023
With speeches, a quiz and the symbolic watering of an oak tree, the Albano campus was inaugurated. The hope is that the campus will strengthen the ties between KTH and Stockholm University, and promote Stockholm and Sweden as a nation of knowledge.
Several hundred people had gathered for the inauguration of Albano at a ceremony with speeches and music. Albano, with a total of 70 000 square meters of new university premises, is now completed in what will become a vibrant district a stone's throw away from the city.
"It's not every day you get to attend the opening of a campus, and I'm proud to be here," said Anders Söderholm , President of KTH, and one of the day's speakers.
He also emphasized the proximity to KI and described the area as a center for the city of science in Stockholm, which he said can compete with the world's leading universities.
Karin Wanngård, Finance Mayor of the City of Stockholm agreed.
"I am delighted that we can finally open Albano. It is a milestone for Stockholm that strengthens the city as a knowledge region and growth engine."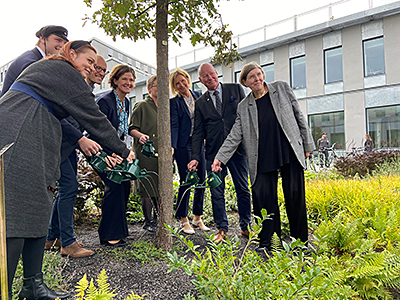 The agenda for the opening day included speeches by two presidents, a mayor and a county governor, the CEOs of two landlords and the presidents of the student unions. Afterwards, the six speakers went to the oak tree planted at the start of construction eight years ago and together watered the soil under the tree.
Albano meets KTH and Stockholm University's need for modern premises for collaboration, education and research. Around 14,000 students, researchers and staff will be based here. The campus area also includes restaurants, shops and newly built student and researcher housing.
The afternoon's program also included the inauguration of the artwork "Future Island - Framtidens ö" and, later in the evening, lectures on current topics in connection with a quiz and pub night organized by Stockholm University's student union.
The activities surrounding the campus opening will continue from Thursday to Saturday, including guided tours, an open house in student housing and space activities at Vetenskapens hus.
Text: Christer Gummeson