Building the new KTH security department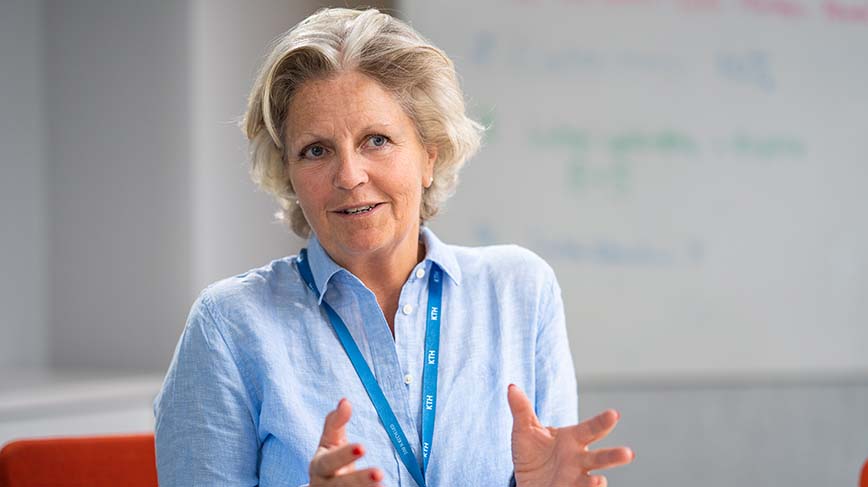 Published Jun 07, 2023
Christina Boman took on the role of head of security and security protection at KTH on 17 April this year. Her brief: to establish a brand new department, identify the operation's needs and develop its security work.
​​​​​​​"What I was recruited to do here is something I've done twice before."
She has until the end of June 2023 to present a framework for the organisation and initial recruitment is beginning this autumn. It is not yet certain how many people this will entail, but she estimates that the department will comprise 10–15 employees.
"It's not only about recruiting people, but also about creating a structure that leads to synergies and economies of scale. This is where collaboration with the schools is crucial. During the entire amalgamation project, it is essential to ask about the needs to avoid building something based on what we believe or think."
Christina Boman joins KTH from the same role at Sweden's public television broadcaster SVT. Other previous roles include Head of Security at Uppsala University and 20 years with the Swedish Armed Forces.
"My objective is to create a professional security organisation that makes KTH a more secure, better place for students and employees."
'Institutional memory'
The aim is to have a mixture of backgrounds, ages and genders. To begin with, she mentions 'people who know KTH and have worked here before'.
"It's important to have an institutional memory, but it's equally important to bring in new people from outside of the university. Needless to say, when I've built organisations, I've drawn on expertise from the uniformed services. However, there are also many vocational courses nowadays, especially in IT and information security, from which I've recruited junior personnel. This provides a good mix of hungry new recruits and experienced personnel."
What lessons are you bringing with you from the academic world?
"When I arrived at Uppsala University, the security group consisted of three people. When I finished eight years later, we were a team of 16. The department reported directly to the university director, and it will be the same here. Thanks to my years at Uppsala, I understand the academic world, the language and culture, and when to duck and when to go."
Collective treasures
During her 35-year career, Christina Boman has amassed experience in everything from security and crisis preparedness to intelligence work.
"Bearing in mind the current security situation, I think KTH needs to look at preparedness issues from the point of view of Sweden's collective treasures. There's a lot here that's valuable just like objects that are protected in museums."
What challenges do you face?
"Putting the department together is my number one challenge. At the same time, I need to be present in the operation. Issues are highlighted all the time, several of which are serious. We're not going to just be sitting in the office, we'll be visible and participate in debates, focus days and workshops. We will contribute and we will listen to issues raised."
...and what are your aims?
"How do you measure success? You look at the number of received cases where people actually get a response. We need to act so quickly that no one feels that there is a delay in support, help or intervention. This is why a case management system is being implemented."