Safe and supportive atmosphere in KTH's staff choir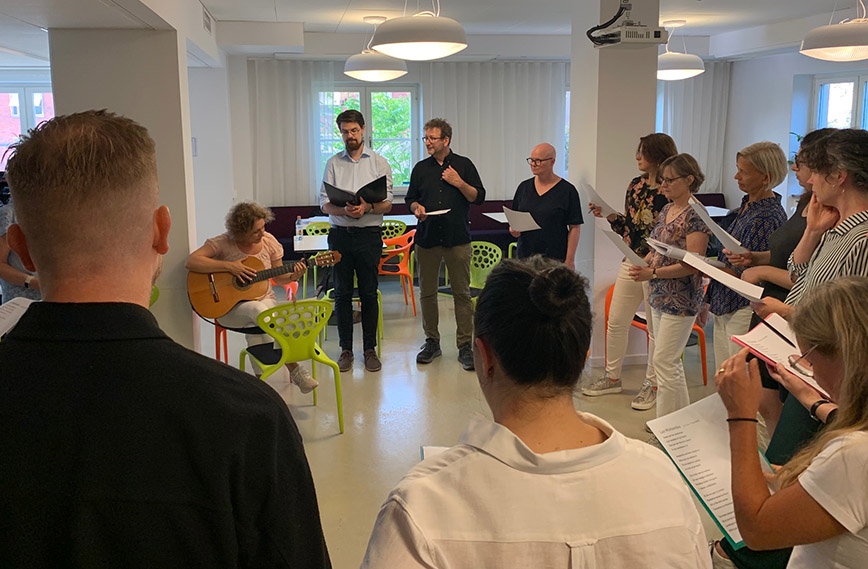 Published Sep 01, 2023
The KTH Staff Choir is up and running for the autumn semester, and they welcome every staff member who enjoys singing with others. Everyone is welcome, from complete novices to seasoned pros. No previous experience is necessary, and you don't need to be able to read music.
Around 20 employees from various parts of KTH came to the choir's first rehearsal on 21 August at KTH Campus. Some have been members since the choir's inception in 2019, while for others it was their first time.
The choir now hopes that even more people at KTH will realise how much fun it is to sing in a group and have the courage to try it during the semester.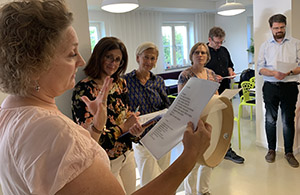 The Staff Choir is led by Helena Soluna Berggren, an experienced choir leader and voice coach:
– "The choir suggest what songs they want to sing. My main aim is that a song should not only develop the singers and bring them joy musically, but also that their singing is a cathartic experience – i.e. that they can really express and release their emotions, build joy and power, and also relax. A bit like an aerobics class, where you boost your endorphins and revitalise your energy."
The members of the choir come from different countries. Therefore, Helena likes to choose well-known songs from other cultures and pop songs, but also traditional choral arrangements such as Christmas and folk songs. She also encourages members to bring different kinds of instruments. Instruction is in English to make sure everyone understands.
The choir gives a concert at the end of each semester.
– "Around early December, we usually do a few Lucia performances," says Helena.
Members on the best things about the KTH Staff Choir
Adam Lundström Ramirez, School of Architecture and the Built Environment (ABE):
– "You get to meet staff from across KTH, be they researchers, teachers or admin staff – people you probably wouldn't meet otherwise. It's something to look forward to at the end of a working day."
Susanne Carlsson, Support Services (VS):
– "The best thing about the Staff Choir is that it brings so much joy and energy. That fatigue at the end of a day's work dissipates, and after two hours of singing you're full of endorphins."
Mariana Mesherjakova, Support Services (VS):
– "The choir helped me integrate more quickly when I first came to KTH as the members are from all different departments and professions. It's an amazing employee benefit with a great choir leader. Her playfulness gets us all singing heartily in different languages."
Eva Magnusson, School of Architecture and the Built Environment (ABE):
– "Helena encourages us to have a go, to use our voices in different ways. She's good at creating a safe, forgiving atmosphere. We change voice pitches whenever we feel like it. We also move in the room sometimes, walk around and make movements. It can be quite tough, but it's great fun."
Text: Marianne Norén