Tunnel boring under KTH Campus
Published Jun 26, 2023
A tunnel for electric cable is to be bored beneath KTH Campus, and a ventilation tower will be built in the campus area. The project is owned and managed by Svenska kraftnät and is part of a major infrastructure project aiming to boost capacity in the electricity grid in the Stockholm region.
Svenska kraftnät is building a total of around 50 new electricity connections. Anneberg – Skanstull is one of them. A 13.5-kilometre tunnel for electric cable is now being bored far beneath the ground through the central parts of Stockholm. The boring machine or 'mole' recently passed underneath Stockholm University.
During summer 2023 the machine, called Elektra, will reach the northern part of KTH Campus. Boring will take place about 80 metres underground. The project will be ongoing for four to six months, and the tunnel will extend straight across the campus area.
Boring will be carried out during the daytime every day of the week, and also during weekday evenings. Noise will be heard coming up through the ground in buildings directly above the boring machine – a kind of muffled rumbling. According to Svenska kraftnät, individual buildings should not be affected for more than a month, as the mole is continually moving along.
The company says that boring is a gentler method than blasting in terms of the risk of vibration damage to buildings.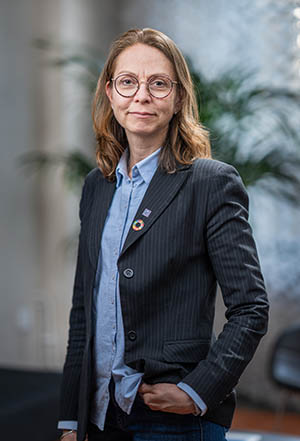 So what will happen to vibration-sensitive environments on KTH Campus?
"Discussions have been under way for several years between KTH, Akademiska hus [the state-owned enterprise for academic buildings] and Svenska kraftnät, and various kinds of preparatory investigations have been carried out. Svenska kraftnät has told KTH that their investigations show that operations in vibration-sensitive spaces on KTH Campus will not be disturbed by the vibrations from tunnel boring," says Charlotta Andersson Lund, Head of the Property Department at KTH. She adds:
"Svenska kraftnät will set up vibration meters in different buildings around the campus. We have made it very clear that if there's any disruption to KTH's activities, we will let both Akademiska hus and Svenska kraftnät know."
Andersson Lund explains that KTH and Svenska kraftnät have different ideas about how this infrastructure project could affect activities in vibration-sensitive environments, but that KTH obviously hopes that Svenska kraftnät has made the right call.
Ventilation shaft
As well as the cable tunnel, Svenska kraftnät will also build a ventilation shaft on KTH Campus – a ventilation tower to aerate the tunnel. The building will be erected between IVL Swedish Environmental Research Institute at Valhallavägen 81 and Sophiahemmet. The construction site is preliminarily expected to be established towards the end of 2023.
Svenska kraftnät says that this construction site will be far more noticeable than the tunnel boring, as it will involve blasting.
Where can staff turn if they have any questions while the work is underway?
"Svenska kraftnät will have an information bus on KTH Campus, by the fountain at Valhallavägen 79. It will be a mobile exhibition about the project, and it will be staffed by people from Svenska kraftnät who can answer any questions," says Andersson Lund.
Text: Marianne Norén