Change the password in Keychain when logging in to macOS
If you have changed the password for your login, you also need to change this password in Keychain. Here's how to change the keychain password when logging in.
Change the password for the keychain when logging in
macOS uses "keychains" to save passwords for servers, websites and more. These saved passwords are then used to automatically authenticate against these services.
Changing your login password does not change your keychain password (which uses the same initial password as your user account). Because of this, you are prompted to enter the keychain password each time a program requires authentication that your keychain would normally provide.
If you have not synchronized the passwords, you will receive a warning when you log in to the Mac which says that "The system was unable to unlock your login with keychain.":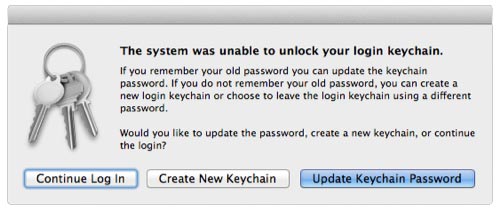 Select "Update Keychain Password", which is the easiest way to update the password (you can also follow the instructions on the page Change the password in the keychain with the Keychain Access on macOS ).
You will receive a password question for your keychain - then enter your old password. Once you have done this, the login password and keychain are synchronized, and you will not be prompted again.