New appointment of Head of School for the School of Engineering Sciences (SCI) 2024 – 2027
Published Aug 29, 2023
Sandra Di Rocco will continue as Head of School for another four-year period. The decision was made by KTH's President after preparation from the permanent nomination group for the appointment of Heads of Schools. The new term of office runs from 1 January 2024 to 31 December 2027.
Congratulations Sandra! How does it feel to be appointed Head of School for another term of office?
"I am appreciative and proud to be entrusted once again with the role of Head of School. The start of my first term coincided with the onset of the pandemic, a monumental challenge that dominated my initial two years in this position. It wasn't until the period spanning 2022 to 2023 that we could truly engage in the crucial dialogues that paved the way for a strategic plan and a comprehensive re-organization of the school —a process that is set to extend into the year 2024."
How do you want to develop the school further? What is the next step?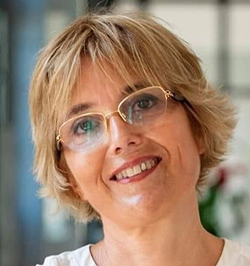 "KTH is presently undergoing significant organizational changes across its Collegial Organization, administrative structure, and financial model. These changes will significantly influence the trajectory of our school's growth and development."
"The SCI school is already a high achiever on all fronts, excelling in education and research. My goal is to seamlessly integrate these into new organizational dynamics to further advance our school. Our exceptional research and educational achievements, underscored by our four highly successful Engineering programs at KTH, owe their success to the exceptional faculty we attract. Hence, my primary focus is on effectively implementing the new structure to foster a positive work environment that consistently draws in talented faculty."
"Within the SCI school, we house prominent research groups in both fundamental and practical research domains, creating a dynamic blend of excellence that drives our development. However, there are challenges ahead. Establishing a stable financial model for infrastructure and laboratories is crucial, along with the necessity for improved national funding for pure disciplines."
In what way can the SCI School address these challenges?
"As mentioned above, it is essential to establish a reliable financial framework for our faculty, which involves ensuring funding for necessary infrastructure and providing sufficient time for research. Although not an insurmountable task, it might become achievable if we could find common ground regarding the potential reassessment of our faculty's size and considering that a faculty role should naturally encompass a blend of teaching (particularly at the undergraduate level) and research."
You are a professor of Mathematics, a language that explains the logical processes of the world around us. Is that kind of mindset useful when it comes to leading a complex organization?
"Just like mathematics, leadership is an art of balancing variables and solving complex equations to achieve a harmonious organization. Mathematical thinking can be a valuable asset in organizational leadership, especially when it comes to handling complex problems, making informed decisions, and optimizing operations. This mindset promotes logic, analysis, and precision, which are critical qualities for successful management of a complex organization."
Reported by: Marta Marko-Tisch