We welcome Denise Adorno Lopes to the SCI school
Published May 27, 2021
Denise Adorno Lopes is a physics material science engineer, working for Westinghouse, Västerås, Sweden, who recently took in the role of affiliated faculty at KTH. During her work at Westinghouse, Denise is working with several groups and projects at the physics department, mainly in the nuclear engineering division. Her main role is to supervise and offer scientific input in the projects she is working with. We asked Denise about her new role at KTH as affiliated faculty, as well as about her research, work and future plans.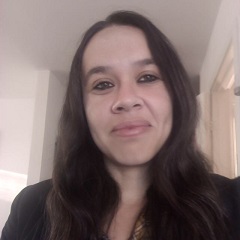 What is your role as affiliated faculty?
As affiliated faculty my role has multiple interfaces. Helping the department to foster science, ensuring to obtain grants and financial support. To supervise/mentor students in a way to provide highly competent professionals to the market. And of course, to develop my own research in a way to achieve the highest level possible and give my contribution to the field.
Taking up a new position it is a challenge on its own. What has your experience been so far?
It is a challenge for sure and sometimes, it can be a little scary. However, I always try to see the bright side, as it is quite exciting at same time. It is an opportunity not only to get to know new people, but always an opportunity to reinvent myself. In the past 6 years I have taken different position in different countries (Brazil, Sweden and USA) and I can see how all these changes make a huge impact in my research and shaped me professionally and personally. After some time, you start to realize there are much more positive outcomes than negative ones, so it is definitely worth it.
Tell us a little bit about you and your educational background?
I had all my education done back in my home country, Brazil. I have a degree in Physics from the University of Maringa (UEM), where I had the opportunity to engage on materials science research for the first time. After my bachelor's I joined the University of Sao Paulo to obtain a Master's and PhD in Metallurgy and Materials Science.
Why did you choose the field of nuclear engineering and material science? What made you interested in it?
After finishing my bachelor's, I was selected by the Brazilian Navy to join a scholarship program to develop my master's and PhD in uranium metallurgy. Due to unstable nuclear polices in Brazil the average age of nuclear work force was (and still is) quite high, so the Brazilian Navy was offering scholarships to attract young talents. This together with the opportunity to work daily in a national laboratory (where I could see process as uranium enrichment and conversion) and in a high technical project such as nuclear propulsion not only pushed me to the field but captured me for life.
How come are you pursuing academic work along with your projects at Westinghouse, are the two jobs somewhat related?
My work at Westinghouse is strongly focused in innovation. Considering this and when we think on ways to manage complex innovation, such as open innovation and technology cluster, collaboration become an important tool. On this scenery the partnership with technical university is a great platform. It creates the possibility to foster new revenues for innovation, make multidisciplinary approaches easier, dilute the risk for the company, especially in disruptive innovation technologies. Additionally, it come with the advantage of preparing future professionals with high technical skills and an immersion in the company culture.
What is your work at Westinghouse about? What makes it important?
I am part of the Global Technology Office (GTO) group at Westinghouse. This is the office leading all innovation project, where the group in Sweden has the main lead for project/product destinated to EMEA (Europe, Middle East and Africa) market. It is highly strategic for the company because is through innovation that we maintain our leadership in the market, as well as find new margins to become more profitable. This office manages a broad innovation portfolio, from incremental to disruptive technologies, and it is here that the partnership with academia become strategic.
What are the biggest challenges your work/research combats?
Time. Nuclear is running out of time considering the previously ways of deploying technology. Huge changes in methods, provided by new technologies, and regulations will need to come in place to keep the nuclear industry and research a viable option in the future. Political decisions need to be in place to make nuclear energy a long-term option. This is also part of being involved in academia, to have multiple perspectives and be able to communicate in a way to facilitate the future of the technology.
What have been the biggest career challenges for you so far?
I could cite many things here. Coming from a poor country (and family) I hardly had guidance to go over my education. But currently the one I will name as the biggest is the biased treatment/opportunities from peers that are man. I have been multiple times in positions that even though I was by far the more qualified person, I was underheard because some man colleagues would not be "satisfied" with a woman leading. Even salary classification, when I was put in a salary class equal to males 5-4 years juniors than myself. It is still a challenge, and it is hard to find an efficient way to deal with but is something I am willing to fight for.
What is your experience as a woman in the field of engineering and sciences?
It is very lonely, from the point of view that there is no role model to look at. For all my carrier I have being working with amazing researchers, professor and top engineers (all men) and they really helped to shape me professionally. However, there are challenges that are exclusive to women, and the lack of a female role model sends the message that, more often than not, these challenges are impossible to overcome. It is definitively a challenge to find a way to progress in the field, with basically no guidance from a peer that could related to your reality. But is definitively something I am willing to overcome and perhaps assist with, the other generations.
You have studied Physics, hence, what advice would you give to young women interested in becoming scientists?
Focus in acquiring and building up your knowledge, this is something no one can take away from you. Set your mind to a way of always learning, and do not let anyone limit you or your capabilities. This will give you the power to discuss on equal level to any researcher in the world. Never stop learning, this is the main lesson in order to be a scientist, it is intrinsic to the career that you will always need to learn something new (e.g., a theory, an experimental method, or a computational language). Lastly, always remember to enjoy your research, otherwise it is not worth.
How could we attract more females into the field of engineering and sciences? Are there any actions taken by your work environment about it?
This is definitively a complicated question. In my view there is a lot of women that do not even know they may like the engineering and science field, due to lack of opportunities and experiences during their upbringing. Whenever trying something close to technology, feeling like they are far behind the abilities a male peer would possess, which is just not pleasant. I really believe more dedicated experience to women (like hands-on workshop, maker space) with the goal for introduction to technology, i.e., safe space where all participants are at a beginners level, could help to get more women join the engineering and science field.
Is it important for you to communicate your research to the world, if yes, why and how do you do that?
Yes of course, creating knowledge has no value if it is not shared/spread. Research papers are a good platform to set your fingerprint on the field for a worldwide audience and it is also timeless, meaning, it will be available any time. Another amazing way is collaboration with people, for example previous co-workers or students of mine are in facilities such as Studsvik, SSM, SKC, CEA, Los Alamos National Laboratory, Oak Ridge Laboratory and Livermore National Laboratory. To have formed students spread in such different facilities is also a way to pass on the fundamentals of my research.