Teachers talk about Canvas in the spring term's first Lunch n 'Learn (17/2)
Published Feb 03, 2020
Welcome to the spring term's first Lunch n' Learn seminar where you will hear KTH teacher Björn Kjellgren talk about how he uses Canvas.
"Teacher stories - Educational solutions in Canvas"
Blended on the edge of distance - Björn Kjellgren shows the course room for "Intercultural competence". How can you design a course room in Canvas with many students from different places and teachers in another city? With few close to no physical meetings in a course the demands became higher than usual on including and motivating structure in Canvas. Björn talks about the challenges, solutions and how to evaluate and think forward. You can participate by asking questions and exchange experiences with other teachers.
Target group: Teachers and administrators at KTH who work with Canvas/e-learning. The seminar will be held in English.
Monday 17/2 at 12.15 - 13.00.
To registration .

Björn Kjellgren , KTH, ITM, Department of Learning. Associate Professor at KTH Language and Communication and Director of Studies for the Department of Learning in Engineering Sciences. Björn has been using Canvas for several years.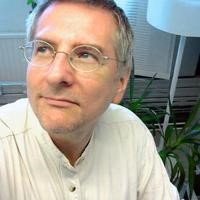 The spring term's lunch n' Learn (3 occasions)
The seminars are held as usual in the South East Gallery, KTH Library, and streamed and recorded so you can participate directly online and ask questions in the chat or see the recording afterwards. If you want to participate in IRL, you need to register . New for the spring term 2020 is that the lunch sandwich is replaced with wraps.
Other dates for this spring's Lunch n' Learn are: 30/3 and 4/5. More information will be announced shortly on the .