Challenge Driven Education
Challenge Driven Education is a method where students collaborate in projects aimed at solving an authentic problem. The challenges include societal needs or complex issues provided by companies or the public sector.
This Guide has compiled different examples from challenge driven projects in higher education programmes. The aim is to inspire teachers, students and 'challenge owners' to jointly develop solutions to technical, societal and sometimes very complex problems, in a way that incorporates demands on higher education quality. Cases from international and interdisciplinary collaborations are found to have provided students with the skills to take on open ended, real world challenges. The Guide is developed to motivate to challenge driven education, to propose important 'rules of the game' and to contribute to a platform for a shared understanding between teachers, students and 'challenge owners' in different contexts.
The guide is available online:
Guide to challenge driven education online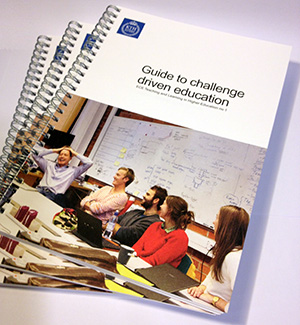 If you have questions, or want the guide in printed version, please contact Anna-Karin Högfeldt, see below.