Course in digital accessibility
The course "Digital@KTH - Create and publish content" introduces how digital material should be designed so that everyone can participate.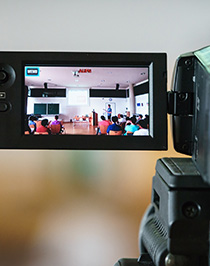 Digital accessibility means that everybody – regardless of disabilities – can use our digital services and websites. However, inclusive content is good for all users.
Soon there will be a Canvas course for you as an employee. Learn how to write in plain language, structure your text, make images and videos understandable for the visually impaired, and much more. All of you who have a KTH profile page, create something in Canvas or create a document that ends up on the web benefit from the course.
It is not only the legal requirements that motivate us. All of us enjoy structured texts, being able to watch a subtitled film or having clear headings in documents. It also makes it easier for search engines to find the content.
The course gives you insight into laws governing digital content and methods of complying with them. Recommendations and examples are designed according to what makes the material easier for all recipients to perceive – so-called universal design.
Digital@KTH - create and publish content (in Canvas)
Is the course not available for you in Canvas?
Self register for the course Digital@KTH (in Canvas)