ITRL Virtual Lab Tour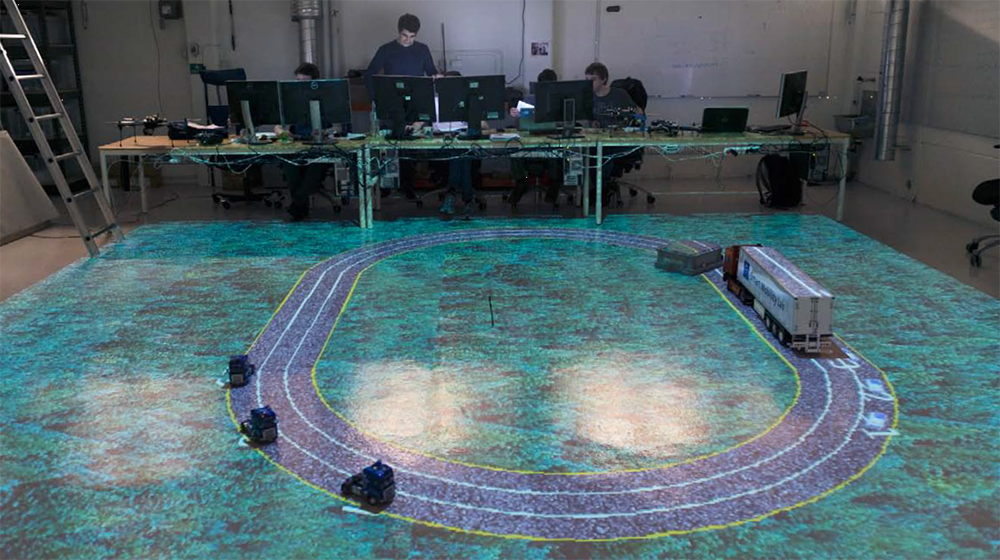 Time: Tue 2023-05-30 08.30 - 09.45
Location: ITRL, Drottning Kristinas Väg 40 & Zoom
In this semester's final breakfast seminar, we invite you to join us for a virtual tour of four distinct demonstration facilities at ITRL. You'll be treated to four presentations, each highlighting the unique purpose and capabilities of our state-of-the-art facilities.
First up is the Smart Mobility Lab (SML), where we explore and test localization, autonomous driving, and communication capabilities of various vehicles, including trucks and drones.
Next, we'll introduce you to the Remote Driving Station (RDS), which features a highly immersive virtual driving arena, complete with force feedback, a sophisticated sound system, and a driver's seat with motion simulator. Here, we analyse the impact and workload of driving by measuring biometric signals such as brainwaves, heartrate, and facial expressions.
Our third stop on the tour showcases the two Research Concept Vehicles (RCVs). These versatile platforms serve as our primary focus for investigating vehicle dynamics, including aspects such as four-wheel driving, individual wheel steering, and rapid testing of new drivetrain configurations.
Lastly, we're excited to present ITRL's newest addition: the Space Robotics Lab. This innovative facility propels our research into the final frontier, as we explore frictionless control and multi-vehicle interaction in a simulated space environment.
Join us for this insightful virtual journey as we delve into the fascinating world of ITRL's cutting-edge labs!
Speakers
Kaj Munhoz Arfvidsson is a research engineer at ITRL at KTH Royal Institute of Technology. His research mainly involves connected and autonomous vehicles, regarding implementation and the consequences of connectivity in an intelligent transportation system. He is currently working on verification of local traffic rules for guaranteeing safety of connected and autonomous vehicles.
Xujing Song is a Research Engineer in the Vehicle Dynamics Research Group at KTH, with a master's degree of Vehicle Engineering. She has experience in the steer-by-wire system and driving simulator design. Currently, she is focusing on a project about the human factor influence on long-time teleoperation vehicles.
Mikael Nybacka received the Mechanical Engineering degree in 2005 at Luleå University of Technology where he also received the Ph.D. degree in 2009. He currently works at KTH as an Associate Professor in Vehicle Dynamics. He is active in the research centres ITRL and ECO2 Vehicle Design. His research focus is vehicle validation and driver vehicle interaction and also various aspects concerning over-actuated vehicles, e.g. design of over-actuation and urban vehicle concepts, control of autonomous vehicles and fault-tolerant control.
Pedro Roque is a PhD Student associated with the division of Decision and Control Systems (DCS). His research interests lie within Model Predictive Control and its applications in Aerial and Space Systems. He has collaborated with MIT and IST-Lisbon for experiments with robotic platforms on the International Space Station, and is currently working towards creating a Space Robotics lab at KTH, within ITRL's premises.
We are also joined by moderator Elisa Bin, a PhD student at ITRL and the Division of Decision and Control Systems and ITRL's Director Jonas Mårtensson.
Register