NAVET event on "Dance and Music and Climate Change"
Come to see and listen to how the climate changes and how it could vary in the future!
Time: Fri 2023-05-05 17.30
Location: KTH R1 Reactor Hall, Drottning Kristinas väg 51
Language: English/Swedish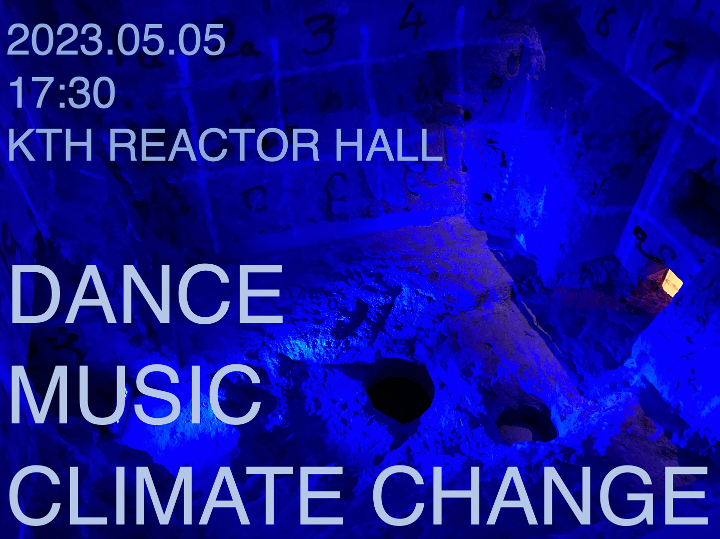 KTH NAVET centre for research in Art, Technology and Design, in collaboration with KTH Climate Action Centre, KTH Energy Platform and KTH Reactor Hall, is happy to invite you to a NAVET event on "Dance and Music and Climate Change" on May 5 at 17:30, KTH Reactor Hall.
18 dancers from the SKH Bachelor Programme in Dance Performance, 5 composers from KMH Bachelor Programme in Electroacoustic Music Composition, 1 composer from KMH Bachelor Programme in Music and Media Production, and 2 students from the KTH Master Programme in Interactive Media Technology will present short dance choreographies for music compositions and sonifications based on climate change data.
We will start with a mingle at 17:30. The performance will start at 18:00.
This event is a collaboration between KTH Royal Institute of Technology, KTH Energy Platform, KMH Royal College of Music and SKH Stockholm University of the Arts. It has been made possible through a grant to NAVET from KTH Sustainability Office.
KTH R1 Reactor Hall can accommodate a limited number of participants. If you are planning to attend this event, please register at the following link: www.kth.se/form/navet
Welcome!