Install software via Software Center
In the Software Center, users of KTH Windows can install software themselves.
Software installations and updates
Software Center is your way to get updates and installations of software in the KTH Windows platform.
Start Software Center
Search for "Software Center" from the Start Menu or open the Start Menu, choose Programs, choose Microsoft System Center, choose Software Center.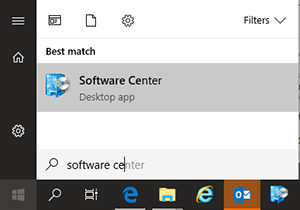 From here you can view and choose software in the Software Center. If you can´t see the software you looking for among all software then serach for it .
Choose the software and install it.
Dialog box to close active programs
For example, you can see the following box pop up. This means that programs need to be closed for installation to continue. In this example, Firefox is up and running and requires installation to close.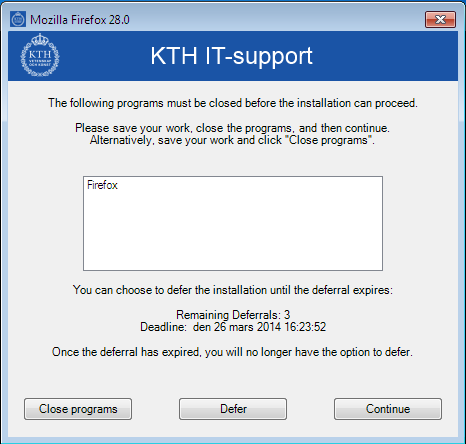 System ans Software Updates
One of the advantages of this system is the ability for you as a user to choose when updates will install without having to reboot the computer.
For example, you can see the following window pop up when you're logged in to KTH Windows and have the software that needs to be updated (in this example Firefox) running:
Accordingly, you as a user have the ability to defer the installation if the opportunity does not suit you for various reasons.
This box will only be shown if the program to be updated is running when the program update begins.
In other cases, you as a user will not notice that the programs are being updated, this is done undetectably.
You can postpone the update up to a maximum of three (3) times, after those three times the update reaches its time limit and will prompt to be executed.
After you have clicked Close programs, the application will automatically update whilst you are logged in to KTH Windows. By this point, you do not need to do anything.
No applications are visible in Software Center
If you do not see any programs at all in the Software Center, go to the Options tab and click on Sync Policy which is located under Computer maintenance.
If the application is still not visible please contact it-support@kth.se