Software for KTH Mac – KTH Self Service
Through KTH Self Service users of KTH Mac can install software and settings themselves.
Software installations and updates in KTH Mac
KTH Self Service is an application installed in /Applications on the Macs handled by the IT department at KTH.
Through KTH Self Service we facilitate software and tools that KTH have access to, practical freeware and our own software. We can also distribute settings and aid in KTH Self Service. One of the intentions with KTH Self Service is that you as an enduser can install all by yourself without having to wait for software distribution media or support.
You start KTH Self Service and get a kiosk window interface, similar to Apples AppStore, with all available application in a number of categories in the left column.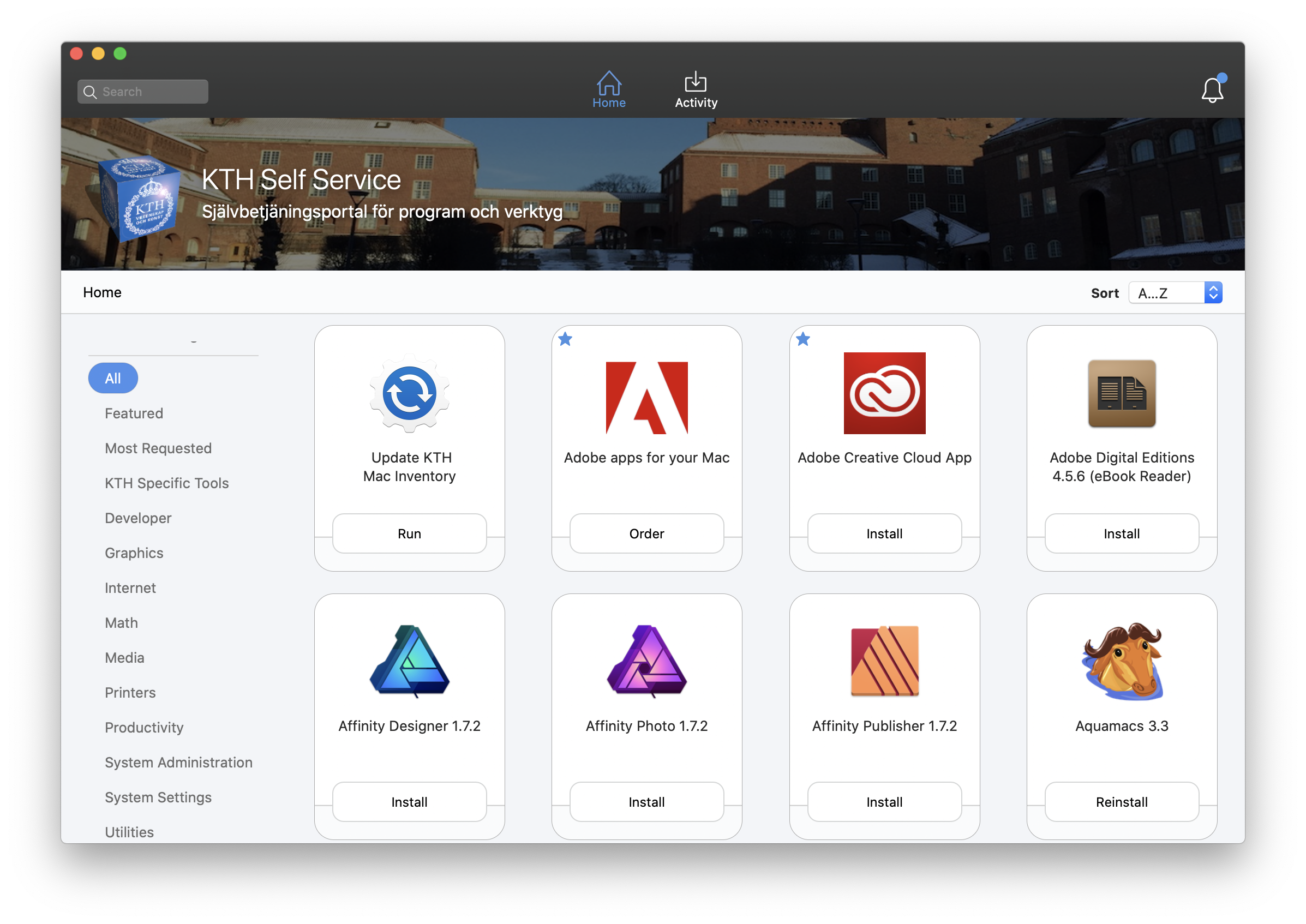 For information about the software, click on the software icon. If you want to install the software, click on Install. If the button says Reinstall, you probably have installed it previously. The software will be downloaded and installed on your computer immediately. Please note that time may wary depending on the size of the software and network connection. Avoid installing larger applications if you are using mobile network connection, as this usually means extra costs for the additional network traffic.
If the bell-symbol in the top right corner has a blue dot, there are software updates available.
Under the Activity you will find a history of previously installed software.
The KTH Self Service application downloads installation packages, scripts and so on during installation network access is required for the portal to be able to complete the installation. For large installations it is good to not let the computer go to sleep during the installation, as this might interrupt the installation.
As KTH has a lot of licensed software that is made available on demand, please contact it-support@kth.se if you need some software you can't find in the KTH Self Service.