Time to recycle old technical equipment!
Published Dec 13, 2019
From now on, the ABE school will recycle the school's discarded computers, mobile phones and other technical equipment. The change is part of the development of our environmental management system and waste management system.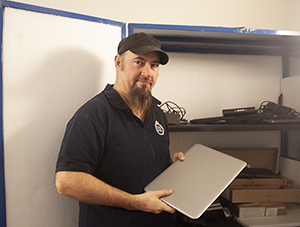 When a work computer, computer accessory or other personal IT product (eg mobile phone or tablet) has become so old that it has to be discarded, it must be disposed of in the registry and the hardware taken care of and recycled according to the school's routine. Through collaboration with a recycling business, the ABE school has now gone from destruction and scrapping to recycling of these type of products.
The school's infrastructure manager Anders Blomqvist is pleased with the development: - It feels very satisfying that this found need for use in the next stage of the life cycle can be met, much better than just destroying the equipment. Great!
Technician Hampus Grönberg also appreciates the new routine: - It feels good to know that the stuff can be re-used and not just become scrap, and it's simply a good thing for the environment!