ABE to develop a new digital lab
Published Jan 30, 2020
The ABE school has been allocated funds to further develop the school's BIM lab on Teknikringen 78. The lab will now be developed into a living workshop for the digital information process in the built environment and a meeting place for students, teachers and industry. The school's Director of First and Second Cycle Education, Associate Professor Kjartan Gudmundsson has looked at how the lab can be developed. The next step will be to implement the proposed measures.
The idea is that the lab's activities will encompass the entire built environment process from planning through design and production to use and management. The lab will become a hub in the communication between education, research and industry.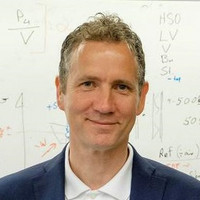 Kjartan Gudmundsson is looking forward to the new development: - The lab not only gives us completely new opportunities to use the latest digital technology in the courses. It will also be an exciting meeting point, where those of us who teach and research as well as people from industry and students can meet to share knowledge about new digital technology and methods that are important for all areas of the ABE school. A fantastic new opportunity for our educational programmes and our school!
The new lab will offer the opportunity to demonstrate the latest digital technology but will also become a development environment and a test bed for new technology. In the lab, students can come into contact with advanced tools for data collection, analysis, visualization and communication, which can be used, among other things, in the areas of architecture, geodesy, surveying, transport, civil and architectural engineering and property management. The lab will also become a residence for a machinery park that offers tools linked to digital models.
The lab will have state of the art digital tools that can be used in teaching, e.g. in project courses that use new digital tools and degree projects related to digititalisation. The idea is also to provide space for regular seminars and workshops with industry and external partners.
The next step will be to implement the proposed measures. This includes an adaptation of the premises and to draw up a list of the courses offered to use the lab and appoint staff to responsible for other activities as well as the premises and equipment.
The lab in its new form is expected to be opened in the Spring of 2020.