The President visited Kista – this is what he learned
President and management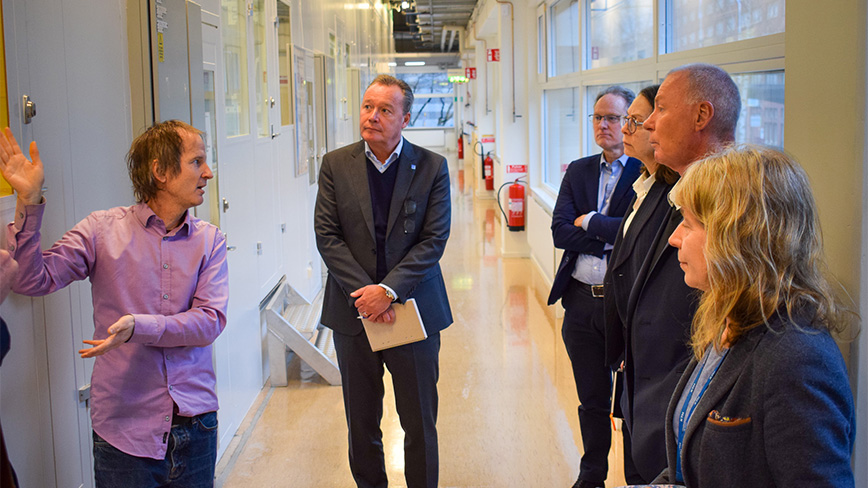 Published Jan 13, 2023
New lab kits for the students, the school's latest investments and KTH's largest research infrastructure. President Anders Söderholm saw this and more when he visited KTH Kista on Tuesday, 10 January.
Since Anders Söderholm took office as President in December, he has visited all of KTH's schools. Now he visits all external campuses, of which Kista is one. In the future, he will see all the university's departments.
"It is exciting to see the operations and the system around education, infrastructure and research centres", says Anders.
During the day, he visited the Electrum laboratory, the research centres Senseable Stockholm Lab and the Semi-Conductor Research Centre, as well as see the various educational environments and meet directors and heads of departments.
Research and teaching close to society
Sonja started the day with a presentation of EECS' operation in Kista. Here, you will find the Departments of Electrical Engineering and Computer Science and their division's Communication Systems, Software and Computer Systems, and Electronics and Embedded Systems.
"To conduct research close to society, we have a research centre for each department. That is why we are extra proud of our two research centres, Senseable Stockholm Lab and Semiconductor Research Center", says Sonja Berlijn.
1200 students are studying here in two 3-year engineering programmes, one bachelor's programme, one 5-year engineering programme, four master's programmes and a doctoral programme. The premises have many suitable educational environments, including the Mentorspace for electronics students and the upcoming D-Lab aimed at computer students.
In addition, we also have one of KTH's largest research infrastructures, the Electrum laboratory. Nils Nordell, director of the lab, presented their work.
"We create an environment for education, research and small-scale production. We have been an integral part of KTH Kista since 1987", says Nils.
Today, the Electrum laboratory has six employees and approximately 180 users from companies and academia who work with everything from medical technology to silicon carbide for energy solutions and IR sensors for thermal cameras.
The Department of Intelligent Systems, and specifically its Division of Micro and Nanosystems, are the most frequent lab user, conducting a large part of their research here.
"Such an extensive infrastructure needs many users; therefore, we are delighted of the new research centre for semiconductors to attract new user groups", adds Nils.
The school's latest research initiatives
Director of the new Semiconductor Research Centre, Per-Erik Hellström, says:
"My ambition is to create a landscape between the academia, the Electrum laboratory and external parties", says Per-Erik
They are now in a two-year interim period where the research will develop in collaboration with partners and research programmes.
"One of the most critical points is coordinating all stakeholders in the field to work actively and generate larger research projects. The goal is to strengthen the semiconductor area nationally and internationally", concludes Per-Erik.
Anne Håkansson, director of Senseable Stockholm Lab, presents the research center's work.
"The research at the centre is about getting to know the city. It reflects MIT's Senseable City Lab. MIT focus area is programming and visualisation, while we work with our domain knowledge; data and technology", says Anne.
The centre's primary goal is to help the city of Stockholm become better, more innovative and efficient. They have previously worked mainly with Hammarby sjöstad. They will now develop Kista.
The research produces new knowledge and new methods to plan for a more sustainable city. Among other things, this means ethics in data management and development of ideas for the 15-minute city concept; residential urban concept in which most daily necessities can be accomplished by either walking or cycling from residents' homes.
"We produce knowledge that is relevant to Stockholm City. In Kista, this means creating security and reducing segregation. We are good at collaborating with the companies around us which is an incredible opportunity for our students and researchers", says Anne.
One of the challenges in the future is to involve students and researchers to a greater extent. During the spring, there will be lunch seminars for students in software and hardware at KTH Kista.
Front edge education
The Department of Electrical Engineering is represented in Kista through the Department of Electronics and Embedded Systems. Head of the department Hans Edin and Head of the division Carl-Mikael Zetterling presented the work.
"Several of our courses have lab kits that the students can work with at home or school. Among other things, the students experiment with digital design and electrical engineering via a lab kit easily operated via their computer", says Carl-Mikael.
The division also offers several lifelong learning courses. These courses are already held for program students but are opened as independent courses to develop the skills of professionals. In addition, they offer a brand-new course for secondary school teachers in electronics and programming.
From the Department of Computer Science, Anders Västberg, Head of the division for Communication Systems, and Thomas Sjöland, Director of the Division for Software and Computer Systems, presented.
Software and Computer Systems are one of EECS's largest divisions, with about ten professors, about the same number of associate professors and a few lecturers.
In total, the two departments have 70 doctoral students working in 10–12 research groups, 60 courses at basic and advanced levels with 700 full-year students and handle 240 degree projects.
"Our teachers teach both at KTH Kista and KTH Campus. In addition, we have courses with a good connection to our current research areas, such as distributed systems for cloud services, highly efficient communication systems, deep machine learning and AI for biomedical applications," says Thomas Sjöland.
President Anders Söderholm concludes by thanking for the visit.
"I carry with me how important it is to make our collaborations flow smoothly and Kista's opportunity to develop as a campus, and I look forward to future cooperation", says Anders.