Get to know the international coordinator Christina
The University Administration staff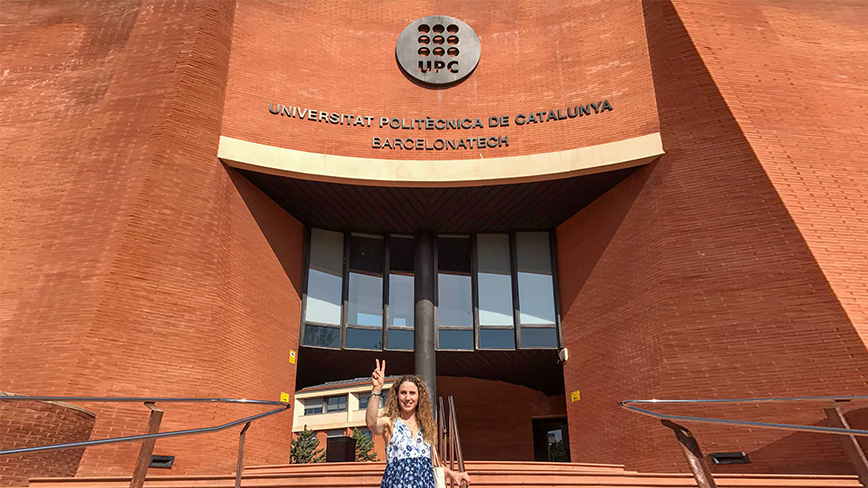 Published Apr 19, 2023
" Right person, right place, right time, " said someone, pointing at the globetrotter Christina Gabrielsson working as an international coordinator. KTH's own Carrie Bradshaw look-a-like, guides the students to their exchange studies.
Christina is one of three international coordinators at the school. She is responsible for our outgoing students.
"Students at KTH have great opportunities to study abroad for one or two semesters. Every year, I organise exchanges for around 130 students".
Working as an international coordinator requires a lot of e-mail contact with students, partner universities and programme directors.
"The best thing about my job is to meet students and help them achieve their dreams. I often get enthusiastic feedback after the students' exchange, and I love reading their travel stories. I'm pretty extroverted, and meeting people gives me energy".
Fairs, information meetings and other activities such as pre-departure workshops are also an appreciated part of the work, even if there's not always time for it.
"I'm often involved in partner visits. In the last couple of weeks, we've had visitors from Sabanci University in Tuzla and Koc University in Istanbul. We will soon have a visit from one of the universities we send most students to; Instituto Superior Técnico in Lissabon, Portugal".
What students worry about
Most students studying a 5-year engineering programme go abroad in year four or five. While students taking a 3-year engineering programme or a bachelor programme go abroad during the fall semester in year three.
"The most common questions I get from students regard when it suits them to go and to what universities. The answer depends on what courses the student needs accrediting for".
Another thing students worry about is the risk of delaying their studies if they fail a course on their exchange.
"It's always a risk. But I usually encourage everyone who can study abroad to do so".
EECS has a few extra contracts with universities that other KTH schools don't.
"For example, students in the 5-year engineering programme in Electrical Engineering can attend Stanford University or Imperial College in London. Students in 5-year engineering programme in Computer Science can attend Washington University in Seattle".
One week of staff training in Barcelona
In May 2022, Christina went for staff training in Barcelona. She contacted her boss directly after reading the call from KTH's International Relations Office.
Three people from KTH travelled to Universitat Politècnica de Catalunya for one week of staff training with other international coordinators. Erasmus covers all.
"In total, we were 22 participants from USA, Peru, Mexico, and of course a lot of European countries".
After one week of workshops, tours on campus and plenty of time for discussing ideas and experiences, it was time to head home.
"I learned a lot. It struck me that we all have similar challenges, which gave me a sense of affinity. For me, it's valuable to mediate self-lived experiences to students; what the campus looks like, where to live, eat, how courses are distributed, and so on".
A big part of doing a staff exchange is to meet colleagues from all over the world. Christina thinks those who have the opportunity to go should take it.
"Discovering Barcelona was amazing! As I say to all students: if you can go on an exchange – do it!"
A solo travelling globetrotter
When she's not working on ensuring EECS' students can explore the world, she's a globetrotter with 25 visited countries and counting. And it's no conducted tours.
"Mostly, I travel alone. I usually find other people travelling alone. It's sort of a community of solo travellers".
Another interest is yoga. And what combines better with travelling than yoga?
"I've been on multiple yoga trips, usually three to four weeks long. In 2019, I went to Bali for three different retreats; of those, I spent five days on a silent retreat".
She often travels to visit a friend, but also wants to be free to discover independently.
"The same applies when I travel with friends. You don't need to be together all the time. It's important that my travel buddies feel the same".
Half the pleasure of travelling is in the planning.
"For me, it's like this; when I return from a journey, I start planning my next one. When I travel with friends, I'm always the planner. But I always put their interests first before I see to myself".
Sex and the city look-a-like
Another not-too-unusual hobby is series—no specific genre. But crime series and the supernatural are preferred. A big favourite growing up was The X-files.
"Dana Scully and Fox Mulder in The X-files were my idols. Walking Dead is not my cup of tea. Sex and the City, however, is".
Maybe not entirely unexpected, when birds sing, that she's even described as Stockholms' own Carrie Bradshaw.
Next time you pass Christina in the corridor, ask her about her next trip!
EECS International coordinators