Get to know the new finance manager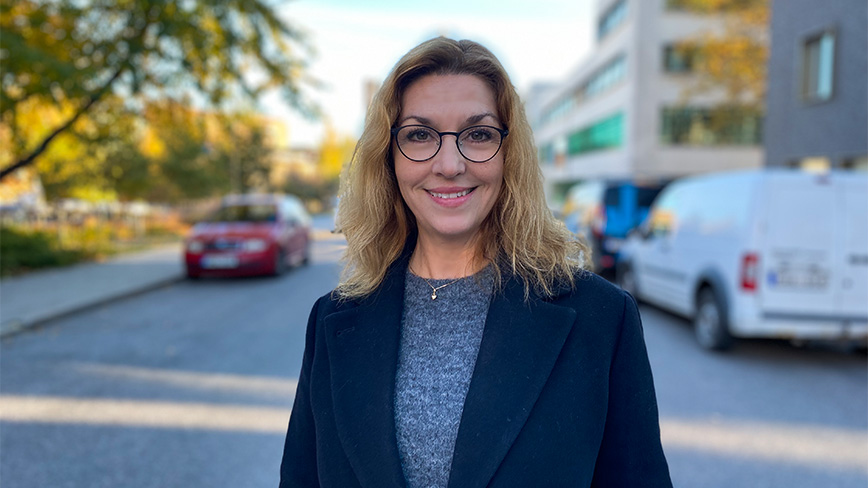 Published Nov 09, 2022
How can the finance unit be compared to a garden, and what are the three most essential experiences Karin brings to her new role? Meet EECS's new financial manager Karin and read about her plans for the financial unit.
Karin Buzzi-Donato is a few weeks into the EECS school's new financial manager role. She has extensive experience in finance and leadership and has worked in both the private and public sectors.
"One of the biggest reasons I applied for this job is that I appreciate being in a learning environment. And I long to gain greater insight into the school's areas of expertise", she says.
She previously worked as a financial manager within Region Uppsala, at Karolinska Institutet, INCF, and a municipal property company, among other things.
"From my previous experiences, I take three main lessons with me; working with finance is working with service, it is vital to have a good working environment and the importance of being able to prioritise and work effectively."
Finance is a function of service
The financial unit at EECS is a service function. But that's not how it works in all businesses. Karin's experiences prove the importance of knowing your target group.
"Our most important task is to serve the business. Our job is to produce good information for others to make decisions about. The target group and purpose must determine how the report is designed".
In the future, she hopes to shift the unit's focus from monitoring quality-assured outcomes to planning.
"The financial unit must be involved in the planning process. The way we work should make it easier for the business to do the right things. In the most efficient way possible".
Good working environment – better results
Karin wants all employees to get energy from work, not the other way around.
"I want us to prioritise good treatment. We must bring out the best in each other".
Her main goal is to create the conditions for the group to fulfil the business's goals.
"I think of the unit as a garden that needs sun, water, care, and fertiliser. It is my job to find out what each needs. To create the best conditions possible. My biggest challenge will be enough to catch up".
Streamline the work structure
A manager's job is to make it easier for employees to make the right priorities and enable efficient work.
"Clear priorities, different meeting structure, improved technology, and less manual work will make us more efficient, prevent stress and free up more time for analysis and planning work."
Karin also positively views the merger and the new departmental teams.
"It will help us provide equal support for everyone and become less dependent on individuals. Which in turn reduces employee stress".
In addition to her group, she wants to improve cooperation with other units.
"We must be able to work together, both horizontally and vertically. But it will also give us access to expertise and a better understanding of the business as a whole".
In her free time
Karin likes to engage in other activities when she's not at work. Her biggest interests are spending time with her family, her dogs, or in the stable with her horse.
"Being with the animals, especially in the stable, is my greatest relaxation. I let go of everything else and focus on being here and now", Karin says.
Of course, you have follow-up questions about all three interests:
Two out of three children have studied computer science at KTH. The grandchildren are 1.5 and 3.5 years old.
The dogs are a Cavalier King Charles and two small bonus dogs, Yorkshire terriers.
The horse is Karin's personal jumping teacher and a mixture of Holsteiner and English thoroughbreds.