Get to know Susy, third-cycle educational administrative officer
University administration staff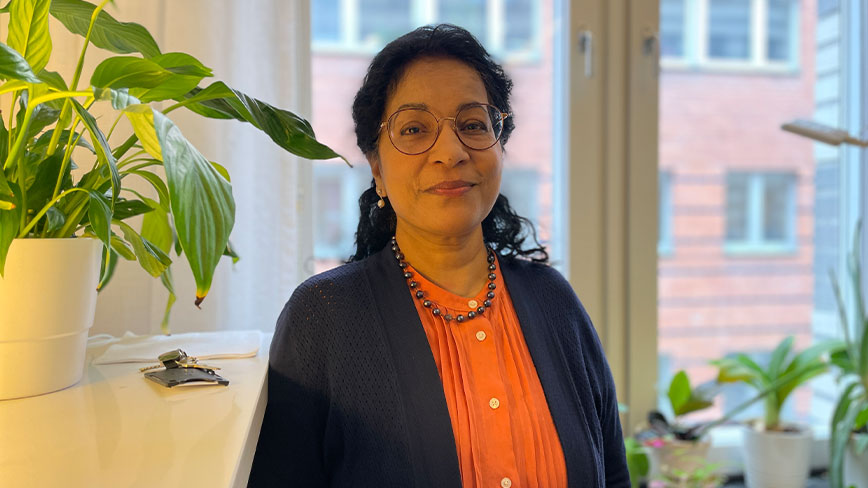 Published Apr 26, 2023
"Which KTH?" exclaimed Susy Mathew when KTH called her almost 25 years ago after she registered with the Swedish Public Employment Service. Since then, she has worked in several roles, the last ten years as a third-cycle educational administrative officer for EECS's four doctoral programmes.
After the confusion about what KTH is, Susy started in 1999 as a finance assistant at the finance unit and later at the Department of Aeronautics. Since then, she has also been the master's coordinator for various programmes, and for the ten past years, one of six administrative officers at the school's doctoral education support.
"I don't quit a workplace so easily, but rather stay until there is a reorganisation, which means I have to move on!"
As a third-cycle educational administrative officer, she and six others handle everything from the admission of doctoral students to course administration to doctoral degrees.
"We take care of the doctoral student from start to finish. The most enjoyable thing about my job is that it is varied, not monotonous. You are caring for an individual, and everyone is different."
"We are a very functional group, that has been working together for a long time. We complement each other; some are outgoing, others introverted."
"Nothing is boring about my job. We are a good team that solves everything together. We collaborate well with the Director of Third Cycle Education (FA) and have the world's best managers!"
A creative family
Susy originally came from Kerala, India and moved to Sweden when she was 20. She lives with her husband in Kista, and together they have two adult sons and three grandchildren, the youngest just three months old.
"The grandchildren are the best! We hang out with them all as much as we can."
Both sons work with film and photography.
"I sew my own clothes, embroider, and make jewellery. I often give away my creations, almost everyone who knows me has a piece of my jewellery, and all my money goes to pearls, stones and fabric."
She also reads a lot – preferably history.
"My favourite is Hermans Lindqvist's books The History of Sweden, which consists of eight volumes. I had fun with them during corona."
Weirdest food: boiled potatoes
When Susy is not supporting doctoral students, sewing, making jewellery, reading, or spending time with her family, she cooks. She enjoys combining traditional Indian food with other food influences.
She likes to include potatoes in her cooking, but it was a shock when she came to Sweden and tried boiled potatoes.
"You don't eat boiled potatoes that way in India. But I love fried potatoes with salt, pepper, and turmeric."
Food is the main thing in her family. They often gather around food and follow both Indian and Swedish traditions.
"Among other things, we celebrate Onam, an old harvest festival tradition from Kerala. Then we prepare 10–15 vegetarian dishes and serve them on banana leaves.
Pensioner in India and dreaming of a driver's license
Susy is approaching retirement and plans to spend the winter months with her husband at their house in Kerala.
Her dream is to get her driver's license before she retires.
"I have taken several driving lessons and will soon write the theory test."
We look forward to seeing Susy drive through the streets of Stockholm!