Snapshots from future research at EECS' winter conference
Published Dec 15, 2021
Research presentations, a poster exhibition by doctoral students and a Christmassy mid-winter concert. School of Electrical Engineering and Computer Science (EECS) had an inspiring programme in store when they hosted a digital winter conference for employees on Thursday, 9 December. The aim was to create a sense of community and provide insight into the research conducted at the school, with five main areas highlighted.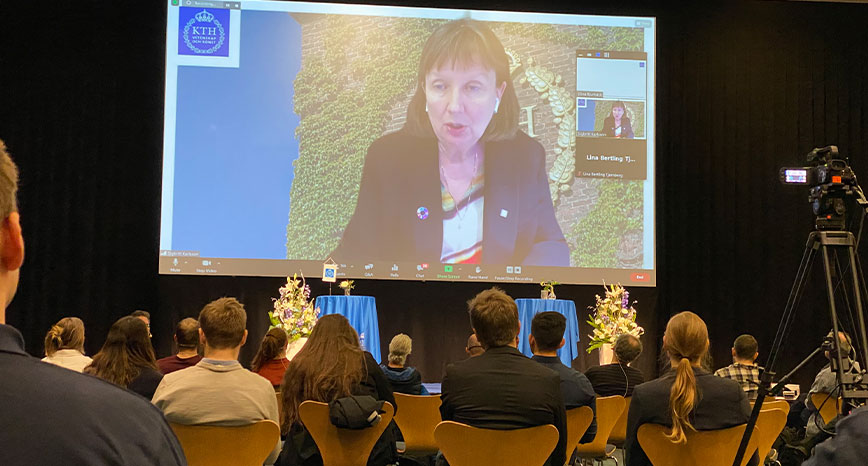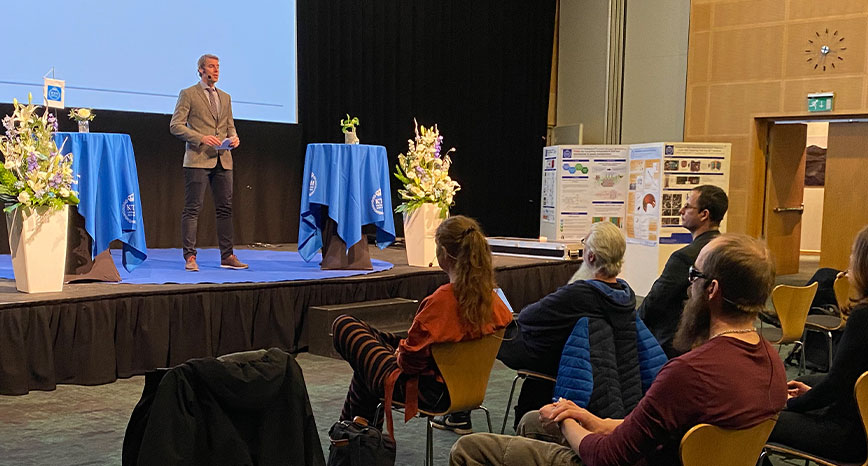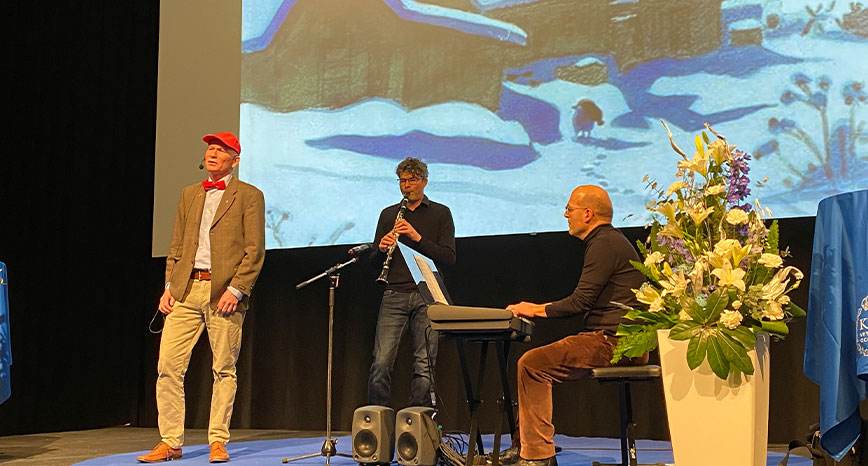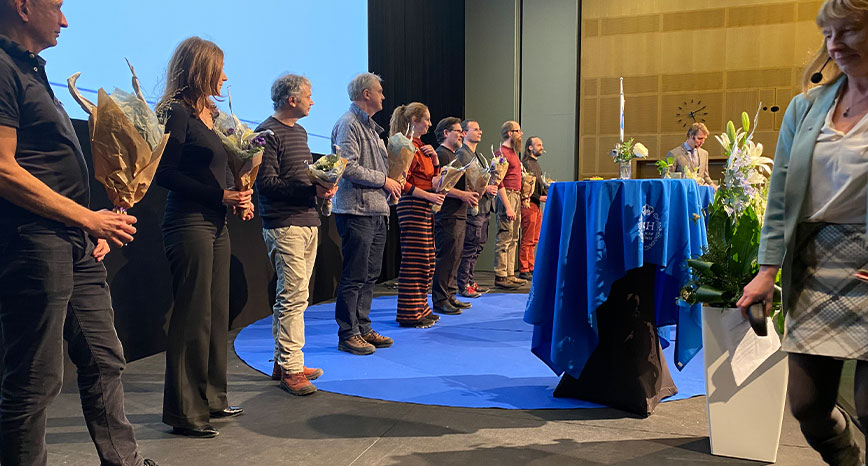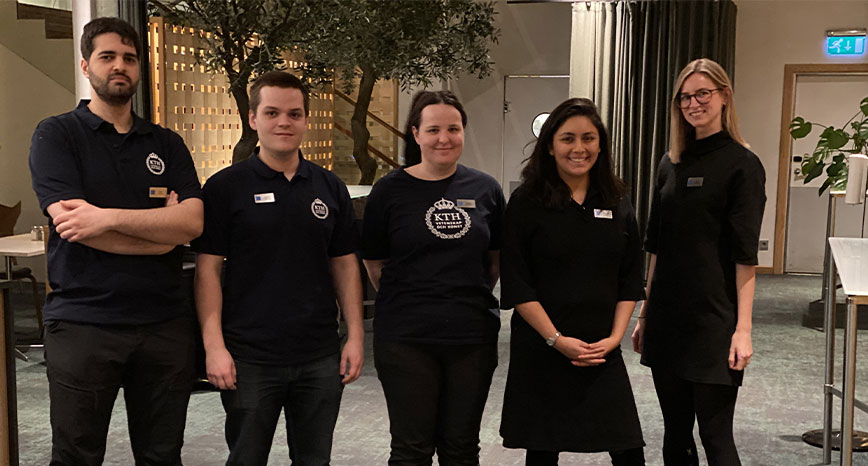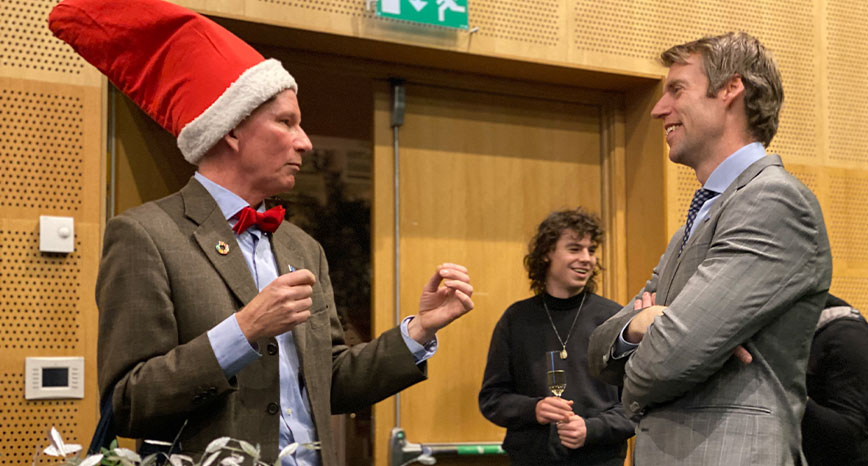 In the conference room at Clarion Hotel Sign four dozen chairs are lined up in front of the large stage. A long table with technical equipment and cords in different colours attest to the approaching digital conference. Due to changed restrictions, the organisers have one day to transform what was supposed to be a live conference, to a digital one.
Alexandra Leyton , communication officer at EECS and project manager for the conference, is happy with the outcome.
"During the past two years we've learned to adapt, rather than cancel. What's amazing about working with engineers is that we together can find solutions and innovations to just about everything," she says.
On the screen above the stage, President Sigbritt Karlsson welcomes the participants. She emphasises the value of the quality culture that characterises EECS with innovative research, learning, teaching and relations within the school and with society.
"I wanted to convey how proud the employees at EECS should be about the research they conduct, which transforms and improves the world," says Sigbritt Karlsson. "It's probably easy to forget the difference you make as a researcher. And the impact you can create."
Importance of research in society
Under the headline "Snapshots for the future of research and education" the five overarching research areas are presented by selected researchers. They are: sustainable climate and energy, improved health, efficient communication, secure digitisation and future transport.
With the app Mentimeter, the approximately 180 digital participants can interact in real time by writing questions and giving feedback.
One of the presenting researchers is Madeline Balaam , Associate Professor at the Division of Media Technology and Interaction. She engagingly presents her research about technology, intimacy and touch.
"Technology is becoming more and more intimate and embedded into everyday objects. If you are into gaming, think about how the seat might touch your thigh or back as a part of the game. I want to research how we can ensure that this type of touch happens in a dignified way," she says.
Patrik Hilber , Associate Professor at the Division of Electromagnetic Engineering, researches risks and reliability concerning electricity networks. During his presentation, he emphasises the importance for researchers to rethink, reduce, repair and reuse before creating new. He says many researchers focus too much on the latter.
"It's important to understand how and where you can make an impact. Often time researchers get caught up in 'creating'. I hope the people that listened today understand that there needs to be balance between working with what already exists and coming up with new solutions," he says after his presentation.
The afternoon's moderator Gustav Notander , business development coach at KTH Innovation, says the presentations have been exciting to listen to and that electrical engineering and computer science are perhaps two of the currently most important technical areas for the growth of society.
"I think it was great how several of the presenters highlighted how their research is useful for the society, outside of the academic sphere," he says.
Interest in colleagues' research
It is time for the two winners of the poster exhibition to be announced by a jury made up of Marianne Lundin, Björn Thuresson, Jens Zander and Gustav Notander, all with vast experience from education and pedagogy.
With the motivation "a well-described problem and clear impact", Shivam Mehta, doctoral student at the Division of Speech, Music and Hearing, wins with his poster "Neural HMMs are all you need (for high-quality attention-free speech synthesis)". With her visually appealing graphics, the evening's second winner is Han Xue, doctoral student at the Division of Electronics and Embedded Systems, with her poster "Ocean wave energy generators".
"I am so surprised! I didn't even have the chance to print my poster. It feels like an early Christmas gift," says Han Xue.
Beautiful notes fill the conference room and home offices as the mid-winter concert concludes the conference and sets the mood for the approaching Christmas. Leif Handberg , in matching red cap and bow tie, Roberto Bresin and Kjetil Falkenberg Hansen perform both music and poems.
Mentimeter has been used actively throughout the afternoon and visitors in the conference room mingle and discuss projects. It's obvious that there's an interest to learn about each other's research and there's a great chance that the conference leads to new ideas and possibilities at EECS.
Nicky Rosenberg