University director: Significant benefits with Professional support merger
Kerstin Jacobsson's visit to EECS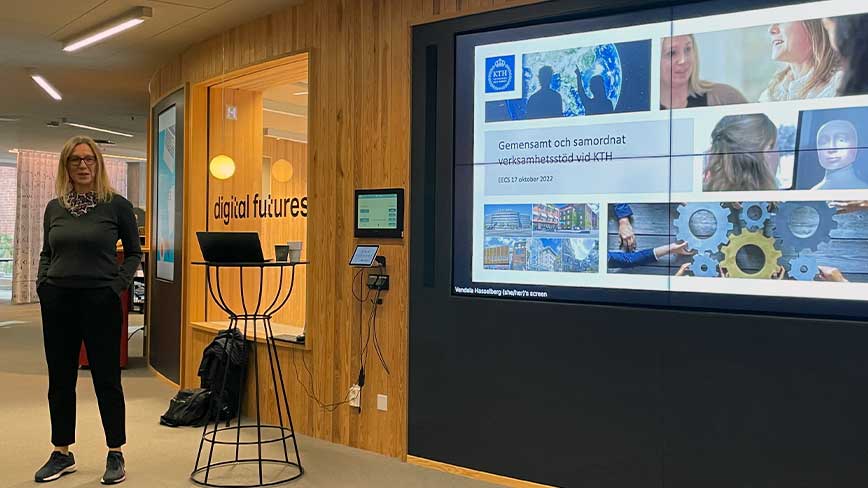 Published Oct 19, 2022
University director Kerstin Jacobsson visited the schools' professional support (VS) to provide an update on the merger.
The university director began by sharing experiences from similar endeavours elsewhere, including her work on the merger between Uppsala University and the University of Gotland.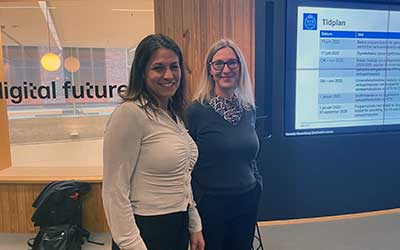 Kerstin Jacobsson sees several advantages in the merger now taking place at KTH:
"I think we will see big benefits with less duplication of work. You will have more time to do what you need to do. Teachers and students will get better support, and we will have more opportunities to step in and prevent problems," Kerstin says.
"Another advantage is that digitisation will become more centralised", she adds.
President Sigbritt Karlsson took the decision on the merger which runs between 1 June 2022 and 1 January 2023. The merger's organization includes a steering group which consists of the heads of school, the Vice President for Digitalization at KTH, representatives from the collaboration group and from the student union.
The university director's own steering group includes the heads of administration. To help her, Kerstin also has a council of heads of department with Mikael Skoglund and Hans Edin representing EECS.
Adding value
The University director emphasised the need for KTH to be at the forefront of developments within digitalisation and globalisation while running the school business efficiently and with quality. From a Professional support perspective this means it must develop in step with the needs it is designed to deal with. This will have bearings on competence, processes, technology solutions and organisation, Kerstin explains.
She also talked about our continued development journey and gave examples of how she sees it. Among other things, the professional support must be consistent and coordinated, accessible and match internal needs and changes in the outside world.
But there are also significant challenges along the way. Rental costs are expected to increase with SEK 100 million. How do we deal with this?
What happens next?
The professional support will from 1 January 2023 be divided into five new departments and be called Verksamhetsstöd (VS).
There will be no immediate changes to roles or line management, but governing documents will be revised and adapted. Work on other ongoing developments within KTH will also be synchronised. This includes the project KTH Education of Tomorrow which describes possible future scenarios for students, teachers, alumni and employers.