The professional support is switching premises in Kista
Published Aug 17, 2022
In September, the professional support (VS) will move into EIT's old premises in Kista. VS will share the office space with the new research centre, Senseable Stockholm Lab (SSL). We have talked to the school's Head of Administration, Joakim Palestro, about the move.
With the move, the professional support will leave all the current office premises on the third floor except for the rooms used for exam administration. The ambition is for the move to be completed by 20 September at the latest.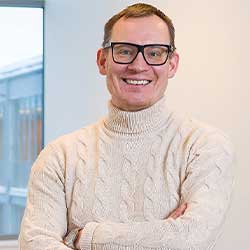 "We are moving to excellent and practical premises", says Joakim. "We will continue to heat and eat our lunch in the large kitchen if you wish, but there will be coffee and fruit on the new premises."
"We are also in the final phase of planning the new modern kitchen in Kista, which is part of the well-being project. It will be a fantastic and pleasant place to meet", Joakim continues.
Close to business
The decision is in line with the initiative "close to the business", which deals with how we can best support the business.
"With the move, we sit more together in an intimate environment. It is precisely in line with what we want, for example, to have close cooperation with the divisions and between the units at VS."
In practical terms, the Operational support will sit two by two with a permanent roommate.
"We have planned for everyone to be able to sit there regardless of whether you are working or hybrid or on-site", Joakim continues. "From SSL, there will be two people."
"The move enables us always to have someone from VS' units there. It becomes clear where we sit and thus easier to find us. For example, we have arranged for an HR room so that you always know you can find an HR person there."
Visit the premises and practical information
From next week, the curious can visit the premises. In that case, talk to the Service Center.
The planning of the move is underway, and practical information will be available shortly. Andreas Sjögren , group manager at Infrastructure and service, is the project manager of the move.
If you have questions about the move, you can talk to your immediate manager.