Get started with the backup
KTH uses Code42 to back up the computers in the client platform.
Here's how to get started.
Get started
The Code42 client is installed for you who have a computer with any of the KTH Mac, KTH Ubuntu, or KTH Windows services. To start the backup in Code42, you need to perform some simple but necessary steps, as shown below.
Installation of the Code42 client
KTH Mac
Users with 10.14 Mojave and later need to make an additional setting to give the application full access to all files. See Backup settings - Mac .
For most users, Code42 Crash Plan will be installed automatically in the background of your computer under /Applications/Crashplan.app.
After installation, Crash plan starts in the background and an icon appears in the menu bar.


In order for the backups to start automatically, you must be logged in to your computer with your KTH account, ie username@kth.se.
If you are logged in with another username, the backup won't start automatically, but you can initiate the backups yourself by logging in to KTH. Then do this:
Select Sign in to Code42 under the icon in the menu bar.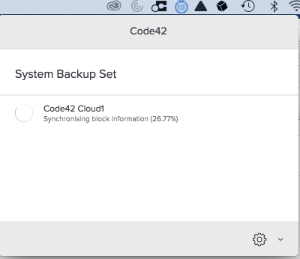 Log in with your KTH account (username@kth.se) and password. Backup should start automatically.
Under Settings (cogwheel) you can make optional settings for your backups.
When you are properly logged in and backup started, it should look like this: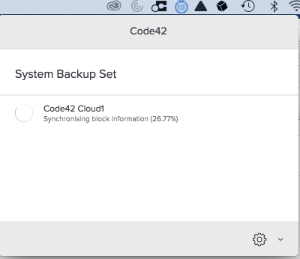 Note that only the / Users directory is backed up.
Installation via KTH Self Service (KTH Mac)
Crashplan can also be installed from KTH Self Service if necessary.
Open the KTH Self Service application and search for Code42.
Install by clicking Install. Installation takes less than a minute and Crashplan.app is installed in the /Applications folder.
Once installed, the backup starts in the background and an icon appears in the menu bar as described above.
KTH Windows
Windows computers automatically log in to the service.
KTH Ubuntu
The client application Code42 Crashplan is installed automatically, but start it to verify that the computer has been registered correctly. First time you launch the application, you will need to log in (using username@kth.se and your KTH.SE password).
Retreival of backuped files
Mac
To retrieve data, use the Applications/Crash Plan, accessed via the symbol in the menu bar.
Windows
To retrieve data, use the Crash Plan program, which is easily accessed via the symbol in the system tray at the bottom right.
It is also possible to retrieve backed up files via web link:
The client is always to prefer but sometimes the web link can be a good alternative.
To keep in mind is that the maximum file size for downloading via web link is 250 MB.