Your new collaboration tool – EECS Slack
Our Head of School invites you to a new communication channel.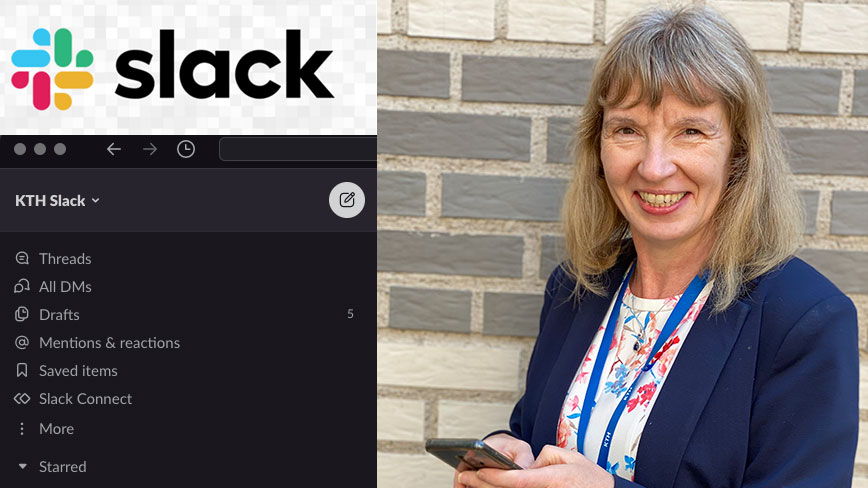 Published Jun 14, 2021
From 16 June, all EECS employees will have access to Slack. Why? Read our Head of School's three reasons. And don't miss IT's instructions guiding you to a good start.
We asked Sonja Berlijn, Head of School, to give us three reasons for using Slack.
"To my surprise, almost everything at KTH is communicated by email. After two weeks in service, my email box had reached the maximum limit. My mission with introducing Slack to the whole school is to increase productivity by simplifying communication. With Slack, you can send quick messages more suitable in a chat, cutting down on the clutter of internal work email.
Another advantage of Slack is that it gives the school's top management a direct channel to reach out to the whole school. I hope this will cut some slack for our mid-managers who don't have to act as messengers.
EECS will be using the KTH Slack workplace, where Slack messages are deleted after 90 days, unlike emails that are stored/archived. I believe Slack will have a positive environmental impact on the school."
Do you see any risks?
"Cybersecurity is a considerable risk in our daily lives. Therefore, I want all new and old Slack users to only use your KTH-login when using this tool for work regardless if you are in the KTH workplace or using other workplaces.
When introducing something new, there are early adopters and some more skeptical. But I hope that everyone will give Slack a try. The pandemic has proven that we are very skilled at levelling up digital work life and trying new solutions. Let's try this together!"