Get to know Hedda
The University administration staff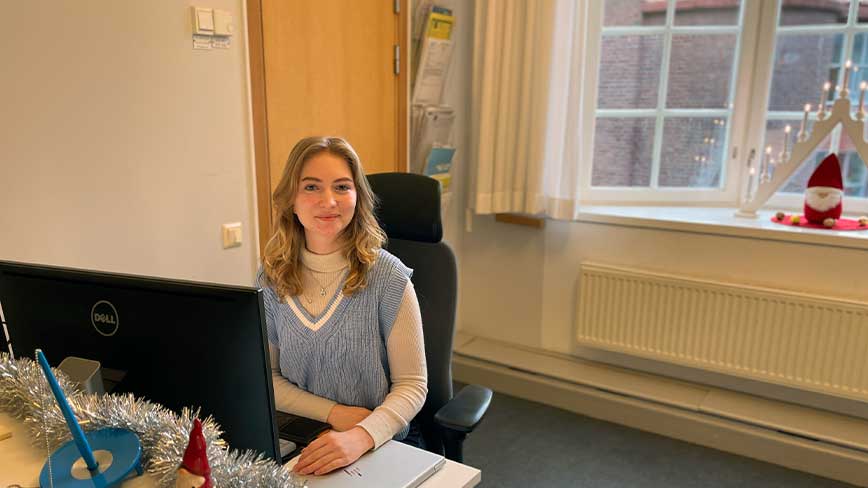 Published Dec 07, 2022
We will present employees at the school's University administration in a series of articles. Some you may meet daily, others less often, or perhaps only via email. This week's employee is Hedda Rudvall Bergenlöv, who you probably encountered in the Service Center at Borggården.
Hello there Hedda! Where do you work, and how long have you worked here?
"Hello! I work as a service coordinator in the Service Center. I'm based at Borggården, but I can also occasionally show up at Q and Electrum. I have been working here since February 2022."
What do you do on a typical workday?
"It is very different from day to day and depends on the need and circumstances on that particular day. It can be everything from travel bookings, arranging public defences, receiving new employees and taking catering orders, or to help a student find a room or accepting access requests."
What is the most enjoyable part of your job?
"What I enjoy most is the variety in my tasks and that I get to meet people, whether in person or via email or Zoom. The most satisfying chores are travel bookings and arranging defences."
What do you do when you are off work?
"I usually hang out with friends. I am interested in politics and like photography. During longer holidays, I like to travel."
Tell us about an extra special travel memory!
"My last trip went to Rotterdam, where I visited a friend studying psychology at Erasmus University. One day, I went to the campus, where I got to see their sustainability building. It was built on different levels with many wooden details and plants and trees inside; it felt like a tree house. According to my friend, it is made with its own ventilation system, which saves a lot of energy. Rotterdam was a very cosy city, calm and modern, unlike Amsterdam. The architecture was modern but still not minimalistic. The station and the Markthal were my favourite buildings."