Get to know Linnea, group leader at the Service Center
The University administration staff
Published Apr 12, 2023
You may recognise Linnea Sundling from one of the school's Service Centers, which she moves between as needed. Before starting as a group leader at Infrastructure and Service, she worked in a hotel reception and has a bachelor's degree in Tourism Science.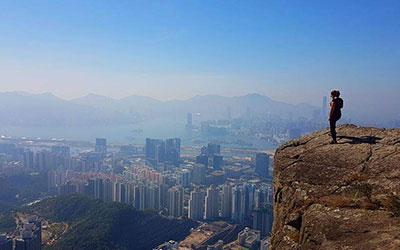 The passion for travelling permeates Linnea's life. It was awakened during her studies at Södertörn when she spent six months in Hong Kong.
"It was the best trip ever. I want to go back to Hong Kong as often as possible; that city has everything: beaches, markets, fishing villages, mountains, nature and the best skyline."
Looking for a better work environment
But let's reverse the band. Linnea studied Tourism science at Södertörn University and then got hooked on events and conferences. After her studies, she became a reception manager at Radisson Blu in Solna. Still, she felt after a while that she wanted better working hours and working conditions and then applied to KTH.
"I have been at KTH since August 2021. I started at Digital Futures as a site officer but moved to Infrastructure and service in June 2022 as a group leader in the Service Center."
As a group leader, she handles scheduling and staffing and ensures that the school's Service Center's are always staffed. Linnea is mobile at all three centres and jumps around where there is a need. She enjoys working with a mix of administration and service.
"No two days are the same. I like to vary between the different centres. It's fun to solve long-standing sourdoughs; the feeling of closing a case that has been lying around for a long time, to have helped someone, it's lovely."
Photo and second hand
As mentioned, travelling is Linnea's passion, and that's where her savings go. Her interest in travelling is also combined with her interest in photography; she likes to take nature pictures during her travels. But there are plenty of other leisure interests as well.
"I have a great interest in interior design and enjoy photographing at home."
Another passion is flea markets and second-hand, and a cast iron pot became the latest find there.
Wants to become a professional cross-country skater
Linnea lives with her partner in Sollentuna, and they are very interested in exercise and health.
"My partner and I decided to become professional cross-country skaters! I've been looking for good skates at Blocket but had to borrow them from my parents in the end."
Otherwise, free time is filled with yoga, exercise and socialising with family and friends. There will be many cosy dinners where Linnea finds inspiration from various food accounts on Instagram. Still, her main dish is Chili con carne.
"I make a fabulous Chili con carne that should be eaten with bread, not rice. The secret is small, tiny pieces of paprika and cumin. I'm also quick to throw together some noodles and coconut sauce," she concludes.