Mac: configure email in Outlook 2016
Instructions for adding your KTH.SE mailbox into Outlook 2016.
Start Outlook 2016 and validate that you have the latest updates installed.
If you don't have any account configured you will be presented with a "New Account" dialog box. Otherwise choose in the menu bar Tools -> Accounts to add your KTH.SE account.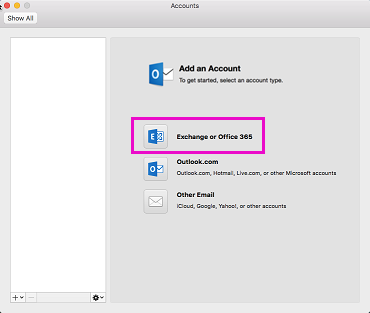 Here you choose Exchange (if you already have an account configured you click on the + sign down to the left and choose Exchange).
Now you will add your KTH.SE account information. Always enter your email address only as username@kth.se, not any other domains (avoid for example @arch.kth.se etc, as this will lead to problems). Then you set UG\username as User name and your password the KTH.se account as Password.
Allow the "auto-discover" service to redirect you to the correct mail server by clicking Allow. If this doesn't work (for example if your are outside the KTH network), enter webmail.kth.se as mailserver when the question comes.
Wait a few minutes to let the mailbox syncing complete its work.