Summary of projects starting in 2023 for the future of education at KTH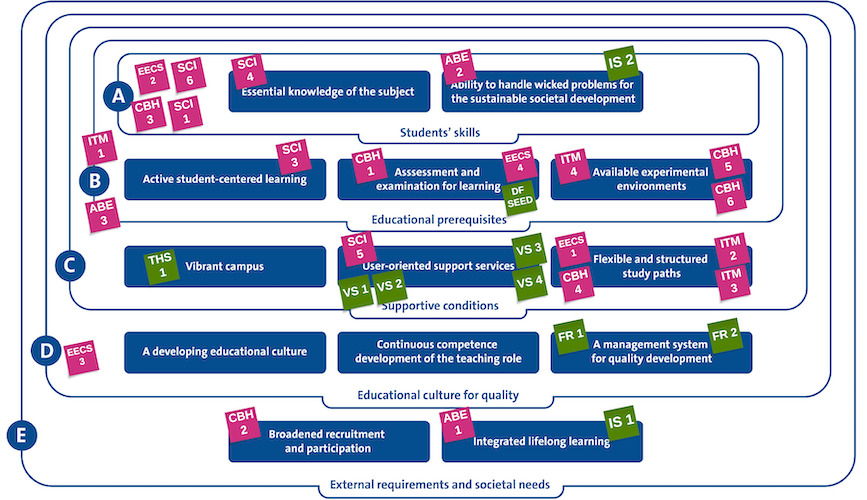 Published May 10, 2023
Future Education projects starting in 2023 are carried out by KTH schools or other organisational units within, or related to, KTH. Three major themes can be identified: programme development, sustainability and digitalisation. Most projects can be mapped to several of the framework's areas and/or principles. But even when mapping a project's most dominant principle, the projects are well distributed across the framework.
Find a complete overview of the projects' mapping to the framework's areas/principles in the table further down the page.
Please note that the project information is current.
The school's projects
Other projects
Three main thematic clusters
Some projects could be listed under several themes, but this clustering is not absolute, but only an illustrative indication.
Programme development
The design studio's educational landscape at KTH's architecture programme today + tomorrow (ABE3)
Increased student completion (CBH3)
Development of programme structures at the second cycle education (CBH5)
Future HING programme in computer and electrical engineering (EECS1 with CBH5, CBH6)
One entry - multiple exits at first cycle education (ITM2)
Modularisation of studies at second cycle education – fundamental change of a master's programme (ITM3).
Current situation analyses of programmes – Vehicle Engineering and Aerospace programme (SCI1).
Sustainability
Development and implementation of a Master's programme in Sustainable Digitalisation (EECS2)
Wicked problems in a sustainable context (ABE2)
Challenge Driven Education (CDE) – Global Development Hub project (IS2)
Integration of subject- and role-centred Sustainability development (HU) and Gender Equality, Diversity and Equal Opportunities (JML) (SCI6)
Digitalisation
Feasibility study for large-scale examination (SCI2)
Digital and continuous assessment (CBH1)
Flexible recorded material for active learning (SCI3)
Data-driven admission to master programmes (SCI5)
Integration of physical and remote experimental learning environments (ITM4)
Developed and improved digitalisation of the Foundation Year Programme (ITM1)
Mapping to the areas and principles of the framework
The Future Education framework consists of 13 principles clustered in 5 areas (A-E). The mapping of projects to the framework is presented in tabular form below. In the table, *programme development, **sustainability, ***digitalisation.
| Area/principle | The project's primary mapping to area/principle | These projects can also be mapped to the area/principle |
| --- | --- | --- |
| A - STUDENTS' CAPABILITIES | CBH3*, SCI1*, SCI6** | EECS1* |
| P1: Essential knowledge of the subject | SCI4 | CBH4*, CBH5*, CBH6*, ITM2*, SCI3*** |
| P2: Ability to handle wicked problems for sustainable societal development | ABE2, IS2 | ABE3*, EECS4 |
| B - EDUCATIONAL PREREQUISITES | ITM1***, ABE3* | SCI1* |
| P3: Active student-centred learning | SCI3*** | ABE2, CBH3*, CBH4*, EECS1*, EECS4, ITM2*, ITM3*, SCI2***, SCI4, SCI6** |
| P4: Assessment and examination for learning | CBH1***, EECS4, SCI2***, DF1 | ABE2, CBH4*, ITM2*, ITM3*, SCI2***, SCI4, SCI6** |
| P5: Available experimental environments | CBH5*, CBH6*, ITM4*/**/*** | EECS1* |
| C - SUPPORTIVE CONDITIONS | x | x |
| P6: Vibrant campus | THS1 | CBH5*, CBH6*, SCI3*** |
| P7: User-oriented support service | SCI5***, VS1, VS2, VS3, VS4 | ABE1, ABE3*, SCI2*** |
| P8: Flexible and structured study paths | CBH4*, ITM2*, ITM3*, EECS1* | SCI1* |
| D - EDUCATIONAL CULTURE FOR QUALITY | EECS3 | x |
| P9: A developing educational culture | x | CBH3*, SCI1*, SCI2***, SCI3***, SCI4, SCI6** |
| P10: Continuous competence development in the teacher role | x | ABE1, ABE2, EECS4, SCI1*, SCI2***, SCI3***, SCI6** |
| P11: A management system for quality development | FR1, FR2 | CBH4*, SCI7 |
| E - EXTERNAL REQUIREMENTS AND SOCIETAL NEEDS | EECS2*** | x |
| P12: Broadened recruitment and participation | CBH2** | CBH3*, CBH5*, CBH6*, EECS1*, SCI1*, SCI6** |
| P13: Integrated lifelong learning | ABE1, IS1 | ITM2*, ITM3*, |