Registration and voting is open for the autumn term's Storträffen Meet up.
Students at the centre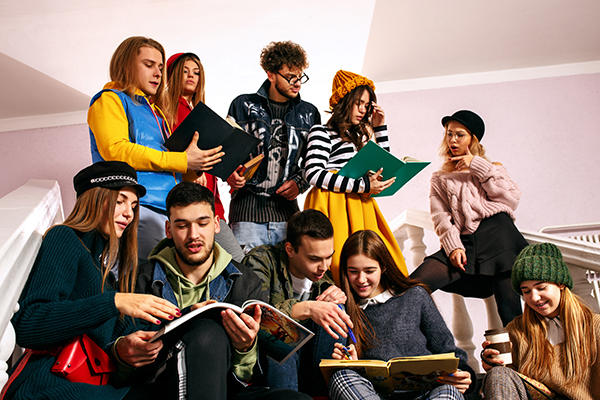 Published Nov 09, 2023
Registration and voting is now open for the autumn semester's Storträffen Meet up - Student in the centre. This meeting is mainly in Swedish.
Monday 4 Dec, Time:12.30-16.30
Creating a favourable environment for learning
Welcome to an inspiring journey through the future of higher education! We invite teachers, staff, students, researchers and university management to this autumn's Storträffen Meet up that explores the core of everything we do - the student. With a focus on learning environments, vibrant campuses, innovative teaching methods, diverse forms of examination and the exciting opportunities and challenges offered by artificial intelligence, we have dialogue and co-creation about the future of students. Whether it's about including people with disabilities, promoting sustainable development and gender equality, contributing to the transformation of society and industry, or taking further steps into the world of digital education, the Storträffen Meet up is, as usual, designed to broaden your perspective on higher education, network and have a great time. So let's put the student at the centre and shape tomorrow's learning together."
Vote on themes when you register
Vote on the themes you want to discuss up until the 27th November, and then the registration link will be open as long as spaces are available.
"Please note that the thematic vote is only for planning purposes so that the Storträffen Meet up committee knows which table discussions are most popular. You do not commit to anything."
Click on the "Register & vote here button" below to go to the voting and registration page:
Register here (In Swedish)
Bring a colleague / fellow student
If you are used to attending the Storträffen Meet up, please help us by telling your colleagues and fellow students to attend, and how they can get involved. Every year new ones join in thanks to close leaders/managers/colleagues etc. encouraging them to come along.
What is the Storträffen Meet up?
A well-attended and active meeting place, for everyone at KTH, regardless of role and position, which is arranged once a semester, in Swedish in the autumn and English in the spring.
An arena for discussing, developing and evaluating everything concerning KTH's education at all levels, such as teaching, training, learning environments, educational support, educational monitoring and student influence!
A half-day meeting starting with lunch and introduction in plenary, followed by three rounds of discussions/demonstrations/workshops/try-outs, with all themes voted by the participants. And then we conclude in plenary with a summary and look ahead.
Coordinated and developed by the Department of Learning (ITM).
How it links to so-called PriU groups is described in more detail here
Link to Priority (PriU) groups
PriU groups are school and cross-functional working groups formed around thematic areas of development. Read more about the link between Storträffen Meet up and PriU groups in the Storträff meet up calendar article below.
Storträffen Meet up - Students at the centre
Welcome from the Storträffen Meet up committee, convened by Vice president for education Leif Kari and coordinated by Viggo Kann, Anna-Karin Högfeldt, Elizabeth Keller and Sara Nyberg.
Contact
If you would like to come in contact with us please email stortraffen@kth.se