Researcher's Fridays: "We help researchers with what we are good at"
Published Oct 06, 2021
Hi Anders Wändahl at the library – KTHB - what does "Researcher's Friday" mean in your calendar this autumn?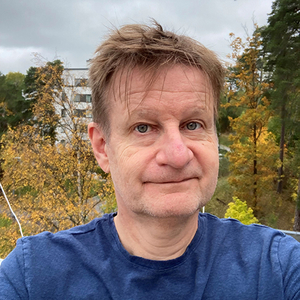 "KTHB wants to create a forum where we in a relaxed way help the researchers with what we are good at. But we also want to keep our ears open to topics the library does not yet offer - and of course we want to learn more about the researchers' situation! This autumn, we have chosen a number of themes: bibliometrics, research data, publication and registration in DiVA. If other needs and suggestions arise during our discussions, we will of course try to add these topics in the future."
The first theme was "Publications", what should a doctoral student know about this topic?
"Publication is vital for all researchers. Since it is not possible to submit the same manuscript to several journals, and it can often take a long time before a researcher finds out whether the submitted manuscript is accepted or not, it is important to investigate which journal is best. "Best" is in turn dependent on a number of factors such as article type, target group, ranking, database coverage, open access, etc. We at the library are not researchers, but we have experience of discussing journal choices and are aware of a number of tools which can be of good use. Both the library's Researcher's Friday (with the theme of publication) and the workshops on the subject are about obtaining facts to be able to make a good assessment and a well-informed choice of journal."
What's "predatoryjournals", is this a topic to talk to KTHB about?
"Of course you can! So-called "predatory publishers" are by definition a rogue publisher (or a single unprofessional journal) that publishes without carrying out a thorough peer-review process - and also at a cost. The problem with publishing in journal like this is that the merit value is lost and that the article cannot be found in scientific databases such as Web of Science and Scopus for example. I personally do not think that researchers should focus on avoiding publishing in a "predator" but instead find positive reasons to choose a "good" journal. If you focus on that, a "predatory journal" never comes into the discussion."
What does a high-ranking journal mean for a researcher's career?
"That's a difficult question. Actually, the journal does not necessarily say anything about the quality of the individual article, although of course it is more difficult to be accepted by a really good journal that rejects 95 percent of all manuscripts. But in practice, it probably means a lot to end up in a high-ranking journal. The research funders and their expert groups are certainly dazzled by an article in a highly ranked journal. But there are more measures of quality. A more reasonable measure is how many citations a publication has received. Other measures that play less of a role today, but which may be important in the future, are "transparency": if there is a transparent description of the method, underlying data, and any source code. And the university's policy for promotion and appointment also means a lot to the researcher's career. From there, the publication is controlled, so to speak."
October 8th the theme is DiVA – can you give us a teaser?
" KTH has the ambition that all metadata (that is title/authos/journal etc.) for publications written by researchers at KTH, should be in the publication database DiVA. Most of the material written at KTH we register automatically - the researcher doesn't have to do anything but we demand that they register the publications that are not included in the larger databases. To register publications in DiVA is not difficult, but it can be tricky the first time. During the Researcher's Friday with"DiVA" theme, we would like to give tips and tricks how to import publications instead of importing them one by one. Having all your publications in DiVA means that you can post your publication list on the profile page at KTH - a good showcase for your research."
Interviewer: Anna Gullers