What happened to the researcher's suggestions?
Published Feb 25, 2020
Last year all KTH researchers were urged to think big and come up with their best ideas that might catch the interest of private financiers. We asked Philip von Segebaden, responsible for the project called Case for support, who tells what happened to nine suggestions sent in by ITM staff.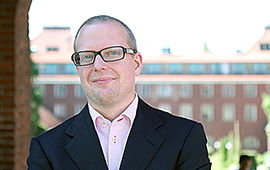 How many cases did you get from KTH and from ITM?
"We received a total of more than 70 cases, nine of these from ITM. It was a wide range both in subject orientation and format (professorships, center education, infrastructure, etc.). Many bold ideas and all high in quality. In some cases the ideas overlapped, but there we are now working on coordinating the topics."
How many cases you moved on with and what is happening with those now now?
"KTH's management selected 13 cases that were given special priority for fundraising. We are currently working with a writer who's writing copy text for the 13 cases, and a photographer takes pictures. This time we will not make a print product out of it, instead we'll do a digital material that is easier to renew and change if needed. Cases for support should be regarded as a living document where new ideas may be added."
From the ITM, which proposals came among the priorities?
"From ITM three cases are represented: 1. Circular Economy (Amir Rashid) 2. Center for Climate Change (Björn Laumert) and 3. Mattecoach online (Stefan Stenbom). The first two are part of a process where we now try to coordinate five proposals for a larger climate case."
What happens to the other proposals?
"No cases are thrown away. They are all part of an extended portfolio where we can continue working if we see an interest for the area. A large number of suggestions have also been referred to our colleagues at KTH Innovation, KTH's partnership dialogues as well as to our colleagues in research funding and competence centers at RSO as they are considered to be closer to their work than ours. Everyone who made a contribution has received individual feedback."