Summary of the All employee meeting (AEM)
21 April
Published Apr 26, 2022
Did you miss AEM on 21 April? No problems, here comes the summary and presentation. Head of School Sonja Berlijn gave us an update about the premises project and changes within the school's centres.
The spring semester's third All employee meeting was broadcast from the new hybrid meeting room Harry Nyquist on Malvina's road, with colleagues on-site and via Zoom. From 8:00, those who felt like it had coffee with cinnamon buns.
Here you can read a summary of the meeting points. For more in-depth information, you can download the presentation.
Accessibility on campus
Sonja began by informing us about the work of making the school premises accessible to everyone. This initiative is to make KTH an even more attractive university and employer.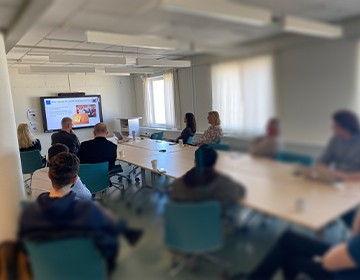 Sick leave and incidents
Sonja went through the school's statistics for sick leave and incidents. Sick leave is still high among technical and administrative staff, higher than the national average.
Sonja urges us to continue to report incidents as it helps us in the work of preventing accidents. A group is now working to reduce risks associated with chemicals.
Proposal for a new President
KTH's University Board has proposed Anders Söderholm as the next President of KTH. Among other things, he has been Vice-Chancellor of Mid Sweden University and is currently Director General of the Swedish Higher Education Authority.
Ukraine
KTH stands behind the Swedish government's condemnation of Russia's invasion of Ukraine. Sonja reminded us of the intranet with information for employees at KTH due to the war in Ukraine. Among other things, there is information on how KTH can receive Ukrainian students and researchers.
If you are worried
Do you feel worried about what is happening in the outside world? Occupational health care is here for you if you think that you want to talk to someone or do not feel well. You can also turn to HR .
Post COVID
Sonja urges us to return to the workplace now that the pandemic is over. Not least for the sake of the students who deserve a living campus during their studies.
The premises project
Sonja informed us about the premises project, which includes digitising our meeting rooms to facilitate hybrid meetings - in April, ten rooms on the school's campus were equipped.
Increase well-being at EECS
There has been a series of Workshops on well-being to identify what is needed to increase well-being at school. The results will be implemented in four test environments. If you have ideas on how we can improve well-being, you can email Sara Johansson .
New guidelines for KTH centres
Sonja went through the different types of centres at KTH and the new guidelines for centre management.
EECS' centres
Sonja also gave an update on changes in the school's centres and who are the directors.
New channel for communicating your research
Sonja informed us about the new news channel to reach out with research, "The researchers' Notice board", a collaboration between KTH's schools. It is a channel for communicating research not picked up by the regular news channels.
Faculty recruitment
Sonja notified us about new recruitments and promotions within the faculty and told us why this is happening now.
Department teams
According to the school's operational plan, each department must have representatives from finance and HR who support the heads of department and participate in the departments' management meetings.
New model for internal rent
A new model for internal rent is under revision. Among other things, costs for common areas such as halls and stairs will be shared by everyone who pays rent.
EECS' Summer event 8 June
Sonja spoke about the research and education committees that work with the summer event programme.
She also encourages everyone to register and that the heads of division should nominate two doctoral students for the poster exhibition.
Next AEM 19 May
The next AEM is on 19 May. The school calendar is updated with all the spring term AEM. The dates are:
Have coffee with Sonja
Sonja will continue to broadcast AEM from the school's premises with the opportunity to have coffee together between 8:00–8:45. You can choose between participating on-site or digitally. Information about the place will be posted in the school's calendar and communicated in the newsletter pEECS and Slack.
Contribute to the agenda
Contact communication-support@eecs.kth.se if you have suggestions for content for future AEM's. If you want to submit anonymous questions, use this form